A former Baylor student is suing the university, saying that it took no action on her report that a football player raped her. That former player, Tevin Elliott, is serving 20 years in prison for his 2014 conviction for sexually assaulting her. The lawsuit also asserts that the university already knew about prior accusations involving Elliot, with one administrator telling another woman that she was the sixth person to report an assault by Elliott.
The woman, Jasmin Hernandez, was at the center of one of the stories featured in an ESPN Outside the Lines report detailing how when five women tried to report rapes by a football player, Baylor "either failed to investigate, or adequately investigate, allegations of sexual violence." The lawsuit, filed yesterday in federal court, accuses Baylor of discrimination based on gender and negligence. Hernandez filed the lawsuit under her name and, through her lawyer, agreed to have her name published.
Here is how her lawsuit describes what happened. Hernandez was raped on April 15, 2012, at a party near campus. Hernandez and a friend went looking for the bathroom when they got separated. Elliott grabbed her by the wrist and took her outside. She said he wanted to go back inside, but Elliott wouldn't let her. Here is how her lawsuit describes what happened next.
As Hernandez's protestations intensified, Elliott picked Hernandez up over his shoulder and carried her behind a secluded shack on the property. There, Elliott pushed Hernandez up against an embankment, ripped off her pants and began to rape her.Hernandez managed to pull her pants back up, and in a daze, attempted to find her way back into the house. Instead, Elliott grabbed Hernandez again, pulled her pants backdown and began raping her again. When he was finished, he allowed Hernandez to put her clothes back on and go.
Hernandez stumbled back to the party and found her friends. When she told them what happened, they immediately took her to the hospital. Hernandez spoke to police, and her mother flew out the very next day.
Now in Waco, Hernandez's mother called Baylor to request mental health services for her daughter. She was told "they were too busy, and could not see Hernandez," according to the lawsuit. Her mother called the student health center to request services and was told "all counseling sessions were full, and they could not provide any services to Hernandez," the lawsuit says. Later, when her mother called academic services about making accommodations, she was told that even"if a plane falls on your daughter, there's nothing we can do to help you," the lawsuit says.
G/O Media may get a commission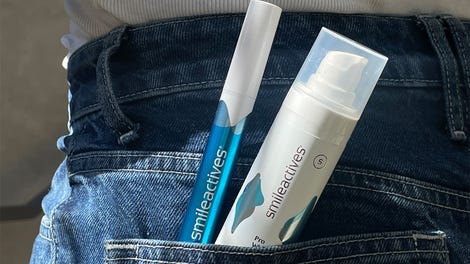 58% off
Whitening Powerhouse Pen & Gel Duo
Her parents both called coach Art Briles's office to report what had happened, but got almost no response except a phone call back from a secretary. Ultimately, the lawsuit says, Baylor "did not take any action whatsoever to investigate Hernandez's claim."
The lawsuit also revisits other details uncovered by ESPN's reporting. At the time, Baylor did not have a Title IX coordinator. Elliott already had been cited for misdemeanor sexual assault. Another woman, dubbed Jane Roe in the lawsuit, also reported to Baylor being assaulted by Elliott and was told by the school's chief judicial officer, Bethany McCraw, that there was nothing they could do for her.
McCraw also told Roe and her mother that Roe was the sixth female student to come in to McCraw's office to report that they had been sexually assaulted by Elliott. Roe and her mother asked if Briles knew of these reports, to which McCraw responded that Briles was aware of the reports. McCraw told Roe and her mother that there was nothing the school could do for Roe unless there was a court determination that Elliott had indeed raped Roe. Otherwise, McCraw said, it would come down to a "he said-she said" situation, and the school could not act on it.
A Baylor spokeswoman gave the following statement to the Baylor Lariat.

Individual incidents are deeply personal matters that do not benefit from our public statements. Even if a survivor chooses to speak or take other actions to support their healing, we must not publicly comment in a way that could compromise student confidentiality or inadvertently discourage future students from coming forward.
You can read the full lawsuit below or click here.