This morning, Bucks player Sterling Brown filed a civil lawsuit against the city of Milwaukee, Milwaukee Police Chief Alfonso Morales, and eight other MPD officers for their roles in a Jan. 26 incident where Brown was arrested and tased for no reason in a Walgreens parking lot. Videos from the night show officers tackling Brown, tasing him, and standing on his ankle, before then celebrating overtime pay and bemoaning the inevitable backlash for their actions. In his suit, Brown claimed a violation of his 14th Amendment rights, excessive force, and unlawful arrest, in addition to Monell claim against the city for its "de-facto policy, regulation, decision or custom condoning excessive force."

The suit begins with a short history of institutional racism in Wisconsin and a run-through of the MPD's record of "executing arrests, false arrests, and/or otherwise violating person's equal protection rights." One of the officers involved, Sergeant Jeffrey Krueger, has apparently been involved in eight prior Use of Force incidents with his taser, including four where no charges were even brought against the victim.
Brown's version of events tracks with what videos have shown, though it includes much more detail. According to the suit, Joseph Grams, the officer who initially stopped Brown, shoved Brown within 10 seconds and called for backup within 30 seconds rather than simply write Brown a parking citation. He was immediately hostile to Brown, who calmly went along with the unnecessary spectacle.
Later, Brown reached into his pocket because his car alarm went off after an officer bumped into it. At this point, he was surrounded by six officers, and when Brown asked why he was being harangued by half a dozen officers over a parking violation, Krueger said "because you're bothering me," then saying that Brown "should be in handcuffs."
G/O Media may get a commission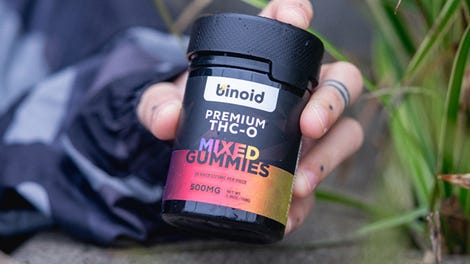 25% Off + Free Shipping
Binoid THC-O Gummies
An officer saw paper targets with holes in them in Brown's car, then asked him if he had a gun or a permit. Brown said he didn't, though officers still escalated as if he did, drawing their guns, allegedly kneeing him in the groin, wrestling him to the ground, and tasing him. Grams claimed it was because "he's trying to hide something."
Per the suit, the responding officers quickly realized that Brown was a Bucks player. "After Defendant Krueger learned of Mr. Brown's professional status," the suit reads, "he commented to Mr. Brown, 'I hope you guys make the playoffs—I like the Bucks. My kid loves the Bucks.'"
The suit claims that body-camera and in-car footage shows the eight officers worked to get their stories straight, and even joked about ending up in the news or court. The officer who sang "money money money!" to celebrate overtime pay apparently also cackled and made a noise that sounded like an "electric shock." The suit details how officers worked to conceal evidence as well, as Grams turned off his camera to answer a phone call then turned it back on afterwards. Other officers turned off their video cameras after Grams asked, "You guys hot?"
Officer Collins slept in his car for half an hour, then asked Walgreens employees for security footage, calling Brown a "douchebag" in the process. While Brown was in custody, Erik Andrade, one of the officers who responded to Grams's backup call, posted a really gross Facebook post.
A look at Andrade's Facebook showed that he had a habit of posting a lot of vile shit.
When Cavaliers guard J.R. Smith made his infamous brain-fart in Game 1 of the NBA Finals, Andrade joked about doing to Smith what the MPD did to Brown.
Three officers were suspended for their parts in the excessive force, for a total of 27 days.
The lawsuit asks for a jury trial. The full complaint can be read below.