In last night's post-game press conference, CBS Sports controversialist Gregg Doyel took the mic and asked LeBron James about his fourth quarter performances in the postseason. The fourth quarter, Doyel suggested, is when "superstars become superstars" (a confusing idea of evolution in itself), and James has been "shrinking" from that call. A few hours later, we saw exactly what narrative that question was intended to feed — Doyel's column, which is entitled "LeBron James: Story of an incredibly shrinking superstar."
James, as you can see in the video above, did not take Doyel's accusation lightly. He pointed out that he is a "two-way player," and that the reporter wasn't recognizing his defensive play in the game or throughout the playoffs, and finally suggested that Doyel watch the film again so that he "can ask a better question tomorrow." Instead, Doyel went and filed the story he had half-written before he even gave James a chance to speak:
That's what I'll remember about James from Game 3. His shrinkage, and how it continued a series of shrinkages. After three games in these NBA Finals, James has scored nine points in the fourth quarter. That's total. That's three points a game in the fourth quarter, which means in crunch time LeBron James becomes Joel Anthony.
It's not really worth pointing out that Doyel is trolling here. But the fact that, four years after we last debated LeBron's crunch-time shrinking, he still thinks this is a viable way to get a rise out of people is proof that we're still completely missing the point of the Heat and especially LeBron. His whole career has been dedicated to the proposition that a player can completely dominate a game in any number of ways, only one of which is scoring lots of points by himself. The Heat with Wade and Bosh offered a living testimony to that idea.
But ever since The Decision, we've labored under the idea that the team was a monument to ego. That's why there's now a discussion about whether James would be disappointed if Dwayne Wade won the finals MVP award. And that's why "shrinkage" has to matter. (You wonder: Had James taken over the fourth quarter instead of Wade last night, might Doyel have considered him an engorged superstar?) Doyel wants us to see Miami as a team in a constant struggle against itself, when what we've really engaged in is a struggle against our perception of a team and the reality of that team.
G/O Media may get a commission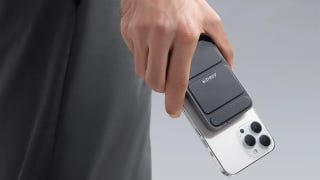 15% off
15% off Anker Top Ten Products
Take charge
Treat yourself to a portable power bank, a magnetic wireless battery for iPhones, or even a solar generator. There is a reason these are in the top ten. For instance, the Anker 747 Power Bank is a 4-in-1 charger utilizing USB-A and USB-C to be capable of charging up to four devices at once. Great to take with you when traveling and in need of keeping your phone, laptop, and even Nintendo Switch powered on.
The assumption that LeBron should be disappointed in his Game 3 play relies on the mistaken impression that he a) does not take pleasure in seeing a teammate succeed and b) does not take pride in his defense, which, as others have pointed out, has been outstanding. It also perpetuates this idea that the Heat are still struggling to find a clutch man, when in fact it mostly underscores the point that for Miami the clutch man can be any of three guys. The wonder of watching the Miami Heat in both the Eastern Conference finals and the NBA finals has been watching them close out each win differently. We've seen both Dwyane Wade and James (and yes, even Chris Bosh) take control in different ways, and it's frightening how easily they're able to share that burden.
But we want James, along with Bosh and Wade, to be the asshole narcissists that we assumed they would be just over a year ago precisely so we can turn around and call them asshole narcissists. After all, we're not dealing with just any team. This is LeBron's team. This is the man we dubbed the King on the team we decided was Evil, and any amount of goalpost-moving could be justified so long as we could feel safe in saying Lebron and the Heat were doing the Wrong Thing, whatever they were doing. Last night, something happened that usually gives the Doyels of the world a series of full-body orgasms. The best player on the floor passed the ball instead of shooting it. He made the smart play but not the alpha dog play, and today some grumpy people are snarking all over him for doing so. The only thing that's shrunken here is our idea of what a great basketball player should be.