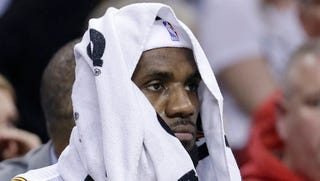 LeBron James will miss the next two weeks with left knee and low back strains, the Cleveland Cavaliers announced today. James has not played in a game since turning 30 on Dec. 30. He aggravated the knee — which he says has been sore all year — jumping into the stands in Miami on Christmas.
James' injury couldn't really come at a worse time for the Cavs. Kyrie Irving just returned from an injury of his own, and Kevin Love missed the team's last game against Milwaukee with back spasms. Cleveland has lost their four of their last five games, and through Jan. 16, they'll be playing the likes of Phoenix, the Clippers, Golden State, Sacramento, Dallas and Houston.
The Cavaliers are currently fifth in the east with a record of 18-14.
Photo: AP