So there's one free agent we haven't heard much from this offseason, and it's none other than LeBron James! James opted out of his contract with the Cleveland Cavaliers, and is technically free to sign with any team in the league at this very second.
Of course, Cleveland isn't worried about LeBron returning. James has already indicated he will re-up, and it's in his best financial interest to keep signing short-term deals so he can take advantage of the NBA's upcoming spike in the salary cap in the next couple seasons. So what's taking James so long to sign a contract?
That's right, LeBron is going to continue to make the Cavaliers sweat until they pay his boy Tristan Thompson, who happens to be represented by James's agent, Rich Paul. Is LeBron being kind of a dick here? Sure. But fuck Dan Gilbert!
G/O Media may get a commission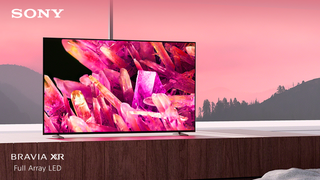 $400 off
Sony 55 Inch 4K Ultra HD TV X90K Series
You may remember a certain letter Gilbert sent after James left Cleveland back in 2010. Many questioned whether or not LeBron would ever be able to play for Gilbert after that. In his first season in Miami, James reveled in Cleveland's demise, sending a thinly-veiled subtweet at Gilbert as the Cavs lost game after game. In that sense, it was upsetting for some to see LeBron return to play for Gilbert, especially considering all that LeBron represents in terms of shifting power into the hands of athletes.
But LeBron continues to show Gilbert and the Cavs organization who is boss. James seemingly has no leverage here—if he left Cleveland again, it would be a P.R. disaster James's (this will be disgusting) brand couldn't afford. But James is still finding ways to tighten the noose around Gilbert's neck.
Gilbert has paid everyone this offseason, handing out big contracts to Iman Shumpert and Kevin Love, and picking up an option on Timofey Mozgov. It's been rumored that Thompson's contract could land somewhere in the neighborhood of $80 million—that's LaMarcus Aldridge money! With Kyrie Irving's rookie extension kicking in this season, the Cavs will have an astronomical payroll.
The power dynamics here are fascinating. LeBron can't leave, but Gilbert can't build his team on the cheap, especially now that LeBron can point to his championship know-how from his years in Miami. Cleveland would quickly turn on its owner if he broke up a team that was two games from winning the Finals, a city which undoubtedly remembers the subpar squads LeBron was saddled with during his first stint.
Of course, some of this LeBron freeze-out is just posturing. Windhorst says LeBron won't be recruiting, but we've already seen James meet with Love when Love was maybe considering leaving. If anything, it's clear LeBron will do whatever is convenient for him to ensure more success, or more championship runs, in the future. But LeBron is making damn sure he uses every person around him to chase his goals, not the other way around, and it's refreshing to watch.
Photo via Associated Press