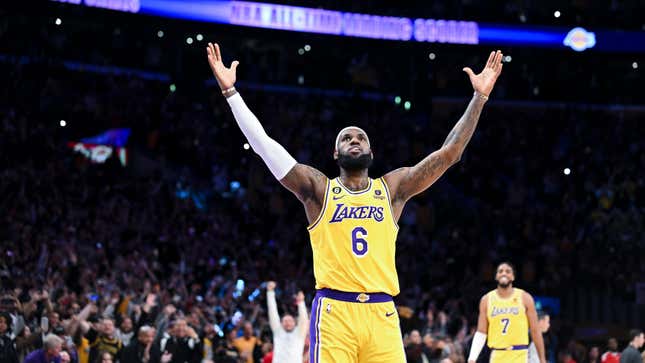 On Tuesday night, LeBron James became the NBA's Vitruvian Scorer, a divine manifestation of athlete and bucket generator. The constant progression of statistical landmarks makes them even tougher to attain for the next generation. The higher records climb, the tougher the gravity becomes to reach. Impressively, James, the Los Angeles Lakers star, broke Kareem Abdul-Jabbar's scoring mark in 4,000 fewer minutes and 150 fewer games.

Despite entering the NBA as a teenager, his growing pains were meager. As a creaky NBA oldhead, the millions LeBron has invested in preserving his body are finally showing returns on par with his investment portfolio. After Los Angeles' loss, James sounded Tom Brady-like discussing how well his body is still responding well to the grueling 82-game NBA calendar.

There are two ways of looking at the manner in which James hurtled past Kareem Abdul-Jabbar as the scoring king. On one hand, he had the advantage of going pro directly out of high school and technological advancements. Wilt Chamberlain averaged 30 ppg during his 14-year career hooping in hightop Chuck Taylors, but previously spent three years at Kansas and another barnstorming with the Harlem Globetrotters.

On Feb. 16, 1972, the 36-year-old Wilt the Stilt became the first NBA player to eclipse 30,000 points. That number seems quaint 51 years later. Kareem Abdul-Jabbar pushed the scoring record to new heights in 20 seasons before retiring two months after his 42nd birthday. But he also spent four years at UCLA prior to the NBA.

On the other hand, James began his career during an offensive Dead Ball period and will likely end it in the Roaring Offensive Twenties. After James' scoring tally began to tail off during his age-35 season where he led the league in assists, the presumption was that he'd begin transitioning into a facilitator phase. However, since then, James has averaged 30 points per game in consecutive seasons. Theoretically, LeBron is in a position to catapult the NBA's scoring record from a hallowed stratosphere to the same deep space as John Stockton's assists record.
Among active players, 34-year-old Kevin Durant's 26,684 points put him 12,000 points and counting behind LeBron. At the 20,000-point benchmark, Durant was in lock-step with James' pace. Technically, he was the second-youngest player to reach 20,000 because he only spent a year at Texas, but he needed an additional 11 games to reach that milestone. Since 2019 though, Durant has lost invaluable time nursing lower-body injuries. The closest under-30 player to LeBron is Giannis Antetokounmpo, who will surpass 16,000 points sometime this season. However, the slow start to Antetokounmpo's career will hinder his pursuit.

The contemporary offensive engine with the best chance to chase down 40,000 points is either Luka Dončić or a precocious phenom who hasn't touched down in the league yet. He may not even be born. But for the sake of this thought experiment, let's use Dončić as our vessel since he's the youngest top-five player (barely) possessing a higher career scoring average than James. Here are the two scenarios for Dončić's career assuming his health.
Could Luka Dončić be the next greatest scorer?
Scenario one: In the last decade, offenses have become exponentially stronger. This season, NBA players are on pace to shatter the record for most 40-point games. If Dončić continued generating buckets at his recent 30-per-night pace, he'd cross the 30,000-point threshold in approximately 950 games.
If however, his trajectory regresses due to age, his metabolism slows down, his usage rate diminishes or the league institutes rules that halt raging offenses, he would still score 30,000 in a little under 1,100 games. He could still be in either his age-32 or age-33 season. For perspective, only Chamberlain and Jordan reached 30,000 in fewer than 1,000 games, but Chamberlain fell off quickly in his mid-30s. Besides, 30,000 was only the second-most important five-digit number to Wilt. Jordan's multiple early retirements interrupted his chase. LeBron scored 30,000 in 1,107 games.

I even broke down the progression of the record along with Luka and a scenario in which Cam Thomas continues simulating a fully-actualized Pete Maravich for the foreseeable future.
Players will now be chasing LeBron, not Kareem
Here's where the level of difficulty increases for Dončić or anyone projected to cross the 30,000-point rubicon. Staying on that path after your athletic prime is where most players stumble. Whoever chases the new record isn't pursuing Kareem. They're pursuing the record for a few more seasons that James could extend by 7,000 more points over the next three, or four seasons. Dončić would need another 400 games — essentially five or six seasons — just to breach 40,000. That doesn't account for any major injuries. Keep in mind, we're only going by games played, not seasons. LeBron, for instance, has seen his games played dwindle over time.
The cracks are small, but he's preserved himself by cutting back on his exhaustive workload. In 2018, his final season as a Cavalier, he led the NBA in minutes per contest and still appeared in all 82 games. Since playing over 3,000 minutes in a season for the eighth time that year, James has come short of 3,000 total regular season minutes every season since. Even during the COVID-shortened championship season, James was only on pace to play 2,600 minutes if the Lakers had played a full 82-game slate. If James were to play until he was 41 like Jabbar did, that scoring record could fly out of reach.

As load management becomes the norm and hooping 82 games becomes an unrealistic standard, the scoring record may become a constellation visible from the Hubble Space Telescope for even the most gifted scorers. Stockton's 15,806 is basketball's nine-second 40. He led the league in assists nine years in a row, played till he was 40, and didn't miss a game for 16 of his 19 tours around the NBA sun.

Catching LeBron isn't impossible, but it would take Stockton's volume, LeBron's readiness out of the gates, his volume, and Jordan's prolific scoring rate. If you crafted the perfect player and gave him 20-plus healthy seasons and the aforementioned scoring proficiency, 50,000 points are the absolute limit. LeBron is projected to end his career within 5,000 points of that NBA firmament. The margins of error are slimming. But, until that Vitruvian Scorer emerges, LeBron is the new ghost future neophytes will chase and from the looks of it, he's not finished yet.