The No. 1 seed Raptors, again, built a first-half lead tonight only to squander it, losing 128-110 to fall behind 2-0 in their second-round series against the Cavaliers. And while it may be tempting to file this one away as yet another classically Raptorsian playoff performance, there's only so much—which is to say: nothing at all, really—that any team can do when LeBron James is making shots like this: 

And LeBron made plenty of those. The second half of his 43-point, 14-assist performance was filled with them: buckets that felt a little too improbable even to be labeled video-game shots. Just look at this shit!
He had some help from Kevin Love this time, who bounced back from a weak Game 1 performance to score 31. In the third quarter, Love and James alone matched Toronto's collective scoring output of 24 points as Cleveland breezed past them with a total of 37, taking a lead that they wouldn't give back.
G/O Media may get a commission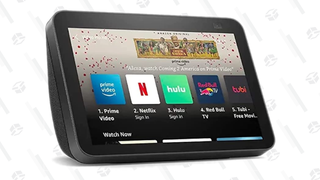 Do not take Playoff LeBron for granted. My God.