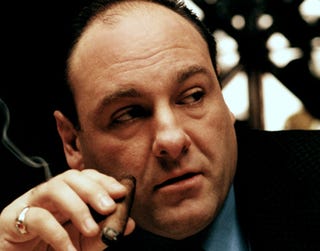 It is the choice of the weekend for sports fans who are also Sopranos fans: From 9-10 p.m. ET, do you watch Game 2 of the NBA Finals or do you watch the series finale of "The Sopranos?"
Let me make this a little more difficult of a conundrum: Your DVR (TiVo, etc.) is not an option. Why? Because sports become increasingly useless when time-shifted (particularly with a 9 p.m. tip), and (2) for tonight at least, The Sopranos are TiVo-proof.
(If you TiVo the Sopranos, I can promise you that unless you sequester yourself completely, you will find out what happened before you finish viewing the episode. When would you watch it? After the Finals game ends? That could be midnight. Count on one of your friends calling or emailing. Or your non-sports-fan spouse who watched the episode first dropping a spoiler. God forbid you wait until Monday. Whatever. You'll lose.)
I feel for David Aldridge, who wrote today of the conundrum. If I was him, I would skip out on the game from 9-10 p.m. and get to the arena after Sopranos is over. It's not like anything defining is going to happen in the game during that hour, and I actually think he'd earn more respect from his readers if he did.
My prediction is that most NBA/Sopranos fans watch Sopranos from 9-10, then tune in to the Finals from 10 p.m. onward. (And, based on Game 1 TV ratings, the NBA will be lucky if fans do that, as opposed to not bothering to watch the Finals game at all.)
No question, this was a one-time anomaly. But it was one that the NBA could have avoided by shifting the game into Sunday afternoon (or, based on how lame the TV schedule was last night, to Saturday night).
Instead, they get a reality check where the NBA stands in the pecking order of pop culture.
— D.S.
NBA Finals or Sopranos Finale? [Lion in Oil]
What to Watch? [NBA Fanhouse]
NBA's conflict a real crime [Philadelphia Inquirer]