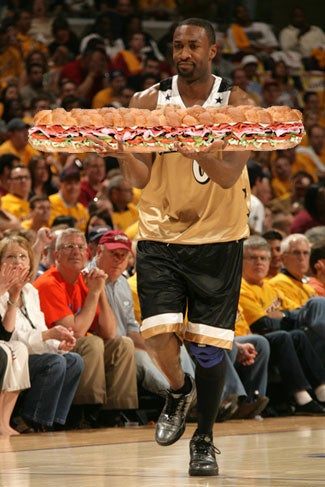 So the verbal barbs were barbered between Gilbert Arenas and LeBron James to christen the Wizards-Cavaliers series, although the counterbarbs by Cleveland were done not in words, but in second-half points. So Cleveland begins with the series lead after with a 93-86 victory in Game 1 of the NBA playoffs first round. And as is the customary "braggin' rights" ritual, Gilbert Arenas awarded a celebratory big sandwich to the Cavaliers bench.
(Winner of Game 2 brings the juice boxes.)
Twenty of James' 32 points were in the latter 24 minutes, while Arenas — who didn't start — finished with 24 points and missed two shots late in the fourth quarter to try and pull back even with Cleveland. Some might question the tactic of shunning James through the media before the game, but perhaps they didn't insult him enough. What of his body odor? His ability at Scrabble? His naivete when it comes to clicking on random Internet links? Don't relent, Washington. This series is still within your grips.
Phoenix-San Antonio rages onward as today's final post comes to a close, but the playoffs for today are but half over. You're free to get your Dallas-New Orleans series "onward," as the kids like to say at ice cream socials these days. And the rematch between the Jazz Hands and the Rocket Men will commence a little past your bedtime, mister, but you've been good, so feel free to stay up late for it.
And yes, you can have some of that sandwich. There's enough for everyone. Damon Jones didn't finish his.