LeBron James, omnipotent shot blocker and NBA champion, loves Halloween. He had a bunch of his Cavs teammates over this weekend, and they all committed to full-on costumes (especially Iman Shumpert). James also used the occasion to stomp all over the Warriors once again in true Halloween spirit. A Cleveland DJ who says he's James's official DJ posted a photo of a skeleton's kick drum bearing a "3-1 Lead" sign, the spookiest lead of all.

A recent photo of his extravagant dessert spread hinted at another, much harsher burn. Take a look at those black and white owl cookies on the bottom left of the photo. There are two gravestones, although from this distance, it's somewhat difficult to tell exactly what their inscriptions read.
A closer photo reveals the truth: They are grave stones for Klay Thompson and Stephen Curry.
G/O Media may get a commission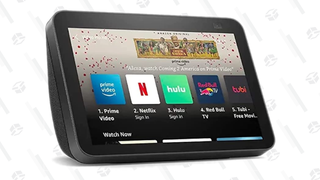 From here, it's just a matter of hours until footage emerges of someone kicking a Draymond Green piñata in the dick and balls.