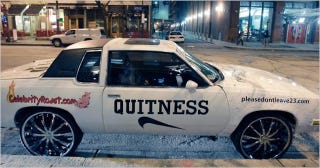 Because no one reads the newspaper, and SportsCenter's anchors are too perky for this early in the morning, Deadspin combs the best of the broadsheets and internets to bring you everything you need to know to start your day.
•Carlos Boozer finally made his Bulls debut. Chicago was promptly blown out by the Magic. The 2010 NBA season is an abject lesson in never signing talented players to large contracts. (Also, snap judgments in December.)
•The Lakers lose their fourth in a row, this one to Houston. But there's no panic yet, because no one in LA actually cares about sports.
•Minus Kevin Durant, the Thunder were taken to 3 OT by the Nets (minus Devin Harris themselves). That's good news for all you fantasy owners with Nets on your roster. Oh wait.
•For Hanukkah, the Florida Panthers are having a yarmulke giveaway next Tuesday. If only there were any Jews in South Florida.
•Gelf's Varsity Letters series continues tonight, with Roger Bennett and Andrew Zimbalist.
•••••
Good morning. Sports things to write about.