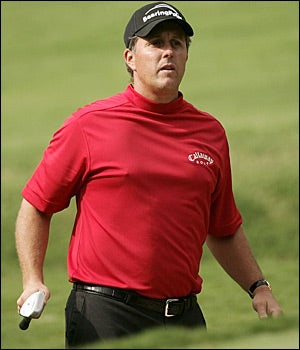 No Tiger? No one cares. That's the PGA's dilemma as the 2010 season gets underway, and luckily they've been able to whip up some manufactured controversy over the questionable legality of their second-biggest star's clubs. Well played, golf.
The media has dubbed it "Groovegate," but make no mistake: this is not a story worthy of a -gate moniker. It's a boring flap over legales that featuring Scott McCarron as one of the principal involved parties. But do you give a toss about a tournament led by Ryuji Imada? Of course not. So the PGA will ride this baby into the ground.
To summarize: this year, the tour mandated that wedges must have V-shaped grooves, disqualifying the preferred square grooves that give a little more control. But Ping-Eye 2 wedges, with the square grooves, were the subject of a 1990 lawsuit, which for some reason takes precedence over PGA rules, and are grandfathered in. Phil Mickelson is using those wedges this weekend.
Now, to be sure, multiple players are taking advantage of the loophole, and multiple players have expressed their distaste. But Scott McCarron called out the biggest name left on tour, saying "It's cheating, and I'm appalled Phil has put it in play."
Phil fired back yesterday:
We all have our opinions on the matter, but a line was crossed and I just was publicly slandered," Mickelson said. "And because of that, I'll have to let other people handle that."

Asked if he was contemplating a lawsuit, Mickelson said, "I'm not going into specifics what that meant."
So there you have it. Lefty violates the spirit but not the letter of the law. McCarron says what a lot of players are thinking. Phil tells the PGA to make him stop being mean. No big deal, right?
Oddly, Golf Digest has an article today calling this an unwelcome diversion, arguing that the PGA doesn't need more negative headlines. Here are some questions for you, Golf Digest. Would I be doing a post on golf if this weren't happening? Would the big sports sites feature golf as front page news? Would most of the world even realize the 2010 season has started?
Mickelson not taking 'cheating' accusation lightly [AP]
Unwelcome Diversion [Golf Digest]