Your morning roundup for Oct. 20, the day Quaddafi was killed. Got any stories or photos for us? Tip your editors.
What we watched: We got the following e-mail from a reader, which I thought was pretty cool. It included a link to the above photo of Bill Mazeroski, the Pirates' Hall of Fame second baseman whose walk-off home run defeated the Yankees in Game 7 of the 1960 World Series. The story behind the photo was worth sharing.
G/O Media may get a commission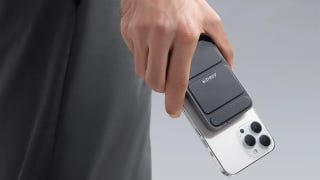 15% off
15% off Anker Top Ten Products
Take charge
Treat yourself to a portable power bank, a magnetic wireless battery for iPhones, or even a solar generator. There is a reason these are in the top ten. For instance, the Anker 747 Power Bank is a 4-in-1 charger utilizing USB-A and USB-C to be capable of charging up to four devices at once. Great to take with you when traveling and in need of keeping your phone, laptop, and even Nintendo Switch powered on.
Dear Deadspin,
I want to share a photo with you of Bill Mazeroski, the man who hit the only Game 7 World Series walk-off home run. Bill was an avid fisherman and my grandfather was a radio broadcaster from Meyersdale, in Somerset County, PA. On the opening day of trout season, Bill M. and my grandfather took a helicopter around to local fishing holes on the opening day of trout season to interview fishermen. After a long morning of flying from stream to stream, they landed the helicopter in my grandfather's and my father's backyard and ate a lunch that my Nana had prepared. They took some pictures and the photos sat for a while in my grandfather's house.
Recently we mailed the photos down to Florida, where Bill now resides, and Bill mailed them back signed! I have a photo blog website and I have uploaded the photo to it, www.DoubleJux.com (the photo is on the homepage 4th post down). The photo is unique in the sense that it is signed but the photo is also juxtaposed. I took a picture of the old signed photo while in my hand in the exact same place as it was taken in the 70's.
I hope that you enjoy it!
Best,
Weston H.
Elsewhere
Tony La Russa, genius: "Rangers manager Ron Washington had conceded on Tuesday the tactical advantage to the veteran La Russa. 'I don't think I can ever live up to matching a wit with Tony La Russa, but what I will try to do is put my players in the right position, and if my players perform, I don't have to worry about matching wits,' Washington said." [Sports Illustrated]
No definitive answers: "Football coaches and school administrators at John C. Birdlebough High School congregated in a small room off the library Monday, huddling around a computer for a most painful and unusual review of game video. They examined every play that one student was involved in, assuming the role of medical examiners. They were trying to discern which collision of the hundreds in a football game at Homer High School on Friday night might have caused Ridge Barden, a 16-year-old defensive tackle, to fall to the turf in the third quarter and die within a few hours. The coroner attributed Barden's death to a subdural hematoma, or a brain bleed. 'There's nothing here; there's still nothing there; there's nothing there; there's nothing there - and now he's laying on his stomach,' Jeff Charles, the head coach, said while watching the sequence frame by frame." [New York Times]
Your Cat Playing With Yarn Interlude:

The puck just stops: "The consensus throughout the NHL is that goaltending has entered a golden age. Goalies are more athletic. Their equipment practically blocks the pucks for them. There's even an advanced form of hip surgery that can rejuvenate their careers. This tide is so strong, in fact, that new rules implemented by the NHL to boost scoring haven't succeeded. The league's per-game scoring average fell to 5.46 in 2010-11, a 10% decline over the previous six seasons. The goalies themselves are thriving: Of the 20 best single-season save percentages by any individual goalie in league history, four were posted just last season, including a record .938 by Boston's Tim Thomas. 'I don't think there's anything you can do to stop it,' said Bill Howard, who coached several future NHL goaltenders during his 38 years at the University of Wisconsin. 'It's probably become the most dominant position in sports.'" [Wall Street Journal]
An unusual week for the Saints: "Payton's leg injury has transformed an otherwise normal week of work into an extraordinary one. Their head coach, normally omnipresent in game-planning sessions, meeting rooms and on the practice field, was laid up in a hospital bed from Monday to Wednesday. In his absence, a village of assistants has stepped to the fore. And while Payton was expected to rejoin the team Wednesday night, he'll be forced to coach Sunday's game against the winless Colts from a coaching booth high above the field. It's an unprecedented situation. On the heels of a tough loss in Tampa, it easily could distract the players and coaches if they let it." [New Orleans Times-Picayune]
Merch: Managing editor Tom Scocca and contributing editor Drew Magary have both written books. You can buy Scocca's Beijing Welcomes You: Unveiling the Capital City of the Future here, and Magary's The Postmortal here. Now do it.
Send stories, photos, and anything else you might have to tips@deadspin.com.