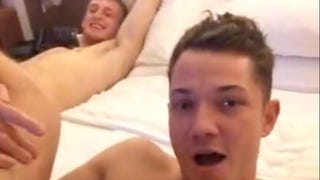 Former Leicester City Football Club players Tom Hopper, Adam Smith and James Pearson can't say they didn't go out on top. LCFC announced today that each member of the trio—who infamously livened up the team's "goodwill" visit to Thailand with an orgy filled with racist remarks—have had their contracts terminated.

Here's the club's official statement regarding the matter:
Leicester City Football Club has notified Tom Hopper, Adam Smith and James Pearson that their contracts with the club have been terminated.

The decision follows the conclusion of an internal investigation and disciplinary proceedings, as a consequence of events that took place during the Club's end-of-season goodwill tour of Thailand. Leicester City Football Club is acutely aware of its position, and that of its players, as a representative of the city of Leicester, the Premier League, the Football Association and the Club's supporters. It is committed to promoting a positive message of community and family values and equality, and to upholding the standards expected of a Club with its history, tradition and aspirations. The Club will make no further comment on the investigation, its finding or outcomes.
All three players are under 22 and will likely find work eventually, but it's safe to say that they'll refrain from orgies and calling people "slit-eye" from this point forward—that or they'll stop filming themselves doing so.
Also, please keep e-mailing us requests for the full video.