Buffalo Bills fans learned how to deal with disappointment a long time ago, so today is just another Tuesday morning for them. When you've already lost 11 in a row to one team, No. 12 isn't such a big deal.
The fact that their team had Tom Brady and mighty Patriots against a wall and literally fumbled the game away in the final two minutes? Whatever! It happens, right? Sure, kick returner Leodis McKelvin probably could have taken a knee or even gone down after that first hit and then maybe he wouldn't have handed Tom Brady the rope by which could he could hang his entire team. I mean, it's only Week One, right? GAH! WHAT THE HELL, BUFFALO?
Is McKelvin sorry about what happened? You bet your ass he isn't.
"If I ever had another chance, I would probably do the same thing," he said. "Next time I get the opportunity I am going to hold on and make a better decision. If it happens next week, I am going to do it again, and you never know what will happen. I may break two and have the best game of my career. I am very disappointed. You don't need to have turnovers at the end of the game."
No. No, you don't need that at all.
McKelvin: I'd do 'same thing' [Buffalo News]
Bungling Bills blow big lead [London Free Press]
Pilgrims' Progress (Where the Buffalo Fumble) [Metroville]
An Open Letter to Leodis McKelvin [Jurisprudential Misadventures]
Leodis McKelvin Shines in Pats Win [Dirty Wudders]
T.O. a No-Show in Bills Debut [Fanhouse]
G/O Media may get a commission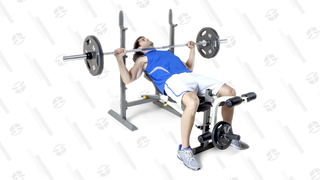 10% Off
Marcy Folding Weight Bench