Are you ready for the end of Alex Rodriguez's tumultuous tenure with the New York Yankees? According to the New York Daily News, it might be coming sooner than you think.

The Yankees long ago gave up on their quest to leverage Bud Selig's personal drug war against A-Rod into a means of wriggling out from under Rodriguez's contract, which is guaranteed through the 2017 season. Despite having lost that battle, the Daily News is hearing that the Yanks might be on the verge of releasing their aging slugger:
While the more likely scenario still seems to be parting ways with A-Rod over the winter, a source familiar with the situation told the Daily News on Monday that there's a chance releasing the slumping DH "could happen" before the end of this season as part of the team's ongoing overhaul.
ESPN's Wallace Matthews was told by a source that there was "no chance" A-Rod would be released today, but that doesn't mean the move isn't coming in the near future. Owner Hal Steinbrenner and manager Joe Girardi were both evasive when asked directly if A-Rod was going to be released, and Rodriguez himself seemed to be preparing for the worst before last night's game:
G/O Media may get a commission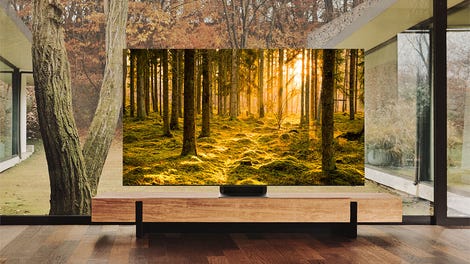 Up to 40% off
Samsung Smart TVs
Even if Rodriguez stays around, Girardi implied that we won't be seeing much of him on the field, anyway:
From an outsider's perspective, this all seems pretty silly. The Yankees are a non-competitive team that was just strip-mined at the trade deadline, and there's really nothing left to play for this season. Any other team in this circumstance would probably be happy to let their Hall-of-Fame slugger with 696 career dingers play out the string and try to reach his next milestone. The fans might even enjoy watching old-ass A-Rod go out there every day to chase 700 homers. Imagine that!
Rodriguez sucks this season—he's hit .204/.252/.356 in 216 at-bats—but so does everyone else in that Yankees lineup. If Mark Teixeira's .603 OPS is still good enough to get him run out there, then Girardi can certainly find some room in the lineup for a genuine all-time great who has a shot at a meaningful baseball milestone.
Outright releasing an old and polarizing player who is still owed a huge chunk of money is the kind of move that makes sense for a team that is in the middle of a playoff hunt or well into a rebuilding process. The Yankees are neither of those things; they're just a bad baseball team with 56 unremarkable baseball games left to play. If the legend who carried them to a World Series title in 2009 isn't worthy of participating in those games, then I don't know who is.