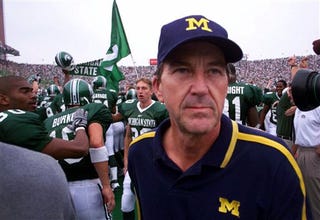 Michigan State's fervor in this game against Michigan seemed to have died last night in that basketball loss to Grand Valley State. The Wolverines are up early in this one 14-3. It's as if something John L. Smith said last year finally sank in with the MSU players this afternoon.
Notre Dame is winning, but barely, against Navy, 21-20. A missed extra point is the difference in this game. I tried watching this, but there were too many goddamn gold helmets. One could reasonably speculate that Notre Dame is merely playing against their practice squad and asserting it's another college football team.
There's an upset occurring in Oklahoma City, with Oklahoma State up 21-14 on Texas. Havin' a little trouble with your rival's rival?
The game to watch may be Cincinnati-South Florida on ESPN, as it began with three crazy touchdowns, including a 100-yard kickoff-for-TD by USF. But the Bulls didn't get the memo that they were supposed to keep scoring as well, and Cincinnati's pulling away in Tampa 31-17.
Meanwhile, Kansas finishes a throttling of Nebraska: 76-39. At one point they had 69 points. This is important later in the post.
Here's the last Hugh Johnson update of the day. Thanks for both playing along And The Nedyssey Continues...
Congratulations to Bill Callahan, the only coach ever fired during the third quarter of a game! — txpepper26
In central Jersey, we are getting Michigan-Michigan State on ESPN and ABC. Apparently there's not enough mediocre football to go around. — elcorey99
The Notre Dame offense has 7 TDs in 8 games this season. The Kansas offense has 11 TDs in less than 50 minutes against Nebraska. — drocksporguy
Hm. Kansas is up 68-31 and probably going to get 70 before the game is over. Tom Osborne has Donald Trump waiting in the wings for added emphasis to Bill Callahan's firing. — Signal to Noise
Well well....Mangino 69-ing Nebraska is not something I wanted to see on my weekend. — Herbie's Wingman
My sports bigamist roommate went to see his first ND game today. I've had hundreds of dollars on teams and not rooted for them as hard as I'm rooting for Navy right now. — ENK, Ann Arbor
remember that scene in full metal jacket when private pyle gets a soap party in bunk in the middle of the night? i'd reeeeeally, reeeeeally like to do that to kirby freeman — lt. winslow
Michigan State's Chris Rucker, owner of two detached retinas that came "out of nowhere" offers an explanation for his condition with his manner of speaking: I think he got hit hard. A lot. — fraganhome
I do believe NBC has already instituted its plan for the WGA strike by replacing Tom Hammonds with a talking picture frame capable of describing every Navy offensive play: "Triple option... another nice run." — Tuffy