Drew Magary's Thursday Afternoon NFL Dick Joke Jamboroo runs every Thursday during the NFL season. Email Drew here.
I bought a television a couple weeks ago for my house. Buying a TV is your karmic reward for all the other boring, horrible, awful things that you have to buy during the course of home ownership. Sometimes you have to buy windows, and that is terrible. Sometimes you have to buy a new water heater, and that is ALSO terrible. Owning a home means pissing away all of your money on shit that you won't even notice three days after you have purchased it, and it's the worst. Never own a home. It's a bigger scam that DraftKings.
But buying a TV? Ohhhhhh, oh that is the SHIT. That is exciting and fun and LOOGIT THE RESOLUTION, HONEY! You don't have to be some Rovellian garbage bro to get excited about a new TV for your MANHOLE. By law, purchasing electronics is 700 percent more exciting than purchasing any other kind of consumer good. It's a fact. I made it up, but it's a fact. Football is an expensive habit, but spending money on it is WAY more fun than spending money on a working furnace.
Big box stores know this, which is why they have roughly 70,000 TVs running on display at all times when you walk in. They probably consume enough power to light up the Cairo electric grid, but no matter. When I walk into a Best Buy, I want to be bukkake'd with theater-quality sound and UHD picture quality. But how do you know which TV is the best one to buy? And what are some things you should know going into the process? Here now are a few random pointers:
1. Never bring a kid to go TV shopping. This is obvious, but worth reiterating. Children make shopping for anything impossible, and they will bitch and moan and scream I'M BORED even when you are buying a fucking 172-inch home theater screen. You can't even get in one question with the salesperson because your stupid kid will be asking to buy gummi bears at the front register. Children should be jailed.
G/O Media may get a commission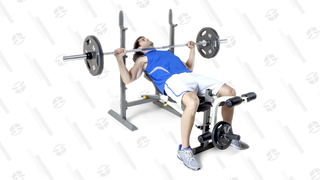 10% Off
Marcy Folding Weight Bench
2. There are too many TVs. We now live in a tyranny of choice, where the consumer options are so vast as to paralyze you. This is especially true in the TV buying market, where TVs come from dozens of different brands, in dozens of different sizes, with dozens of variations in picture quality and Smart TV capabilities. There are also nascent technologies like 3DHD and those curvy-ass TVs that look awesome but are INSANELY overpriced. Which leads me to a crushing truth:
3. You will almost certainly have a budget, and that budget will prevent you from having the best TV. You wanted the fancy pants projection system from the Magnolia section of the joint, right? Tough shit, buddy. There's no point in spending $10,000 on that shit when there's a normal Vizio model sitting there for 1/20th of the price. My desire to live like a baller is at constant odds with my natural dad instinct to be a total cheapskate. "What about this Samsux model, kids? It looks good enough!" Most cheap TVs are still really good TVs, and a good TV is usually good enough. It's only at the Best Buy when you notice, "Oh! This resolution is a touch darker than I prefer!" Once the TV is home, it's fine.
4. Best Buy employees suck. You already knew this, but Chad at the Nerd Squad desk will have no insight of any kind to offer you except for, "The picture quality on these is pretty awesome." Then he'll stand there awkwardly while you check reviews for that shit on your phone. Speaking of which…
5. Know your internet price! I got $80 off a TV at Target when I looked up the price at their website, saw it was cheaper there, and then told the guy, "Hey! This shit is cheaper at your site!" They gave me the money off and I felt like a GOD. Granted, I had to go to the customer service desk first (Guhhhhh) to get my refund, with my kids in tow (GUHHHHH), and then my kids wandered off and got lost and then my oldest kid borrowed a phone from a Target employee to CALL me from within the store and tell me they were lost as I waited for the clerk to process my refund, and the entire process came at an unquantifiable existential cost. But still: EIGHTY FUCKING DOLLARS OFF. I love a bargain.
6. TV speakers are crap! You will have to buy, like, a sound bar. This is how BIG TEEVEE gets you. They sell you the TV for cheap, but they make the extra sound crap mandatory, because when I'm watching Goodfellas on the big screen, I want to FEEL as if someone has shot me from behind.
7. The wires are never long enough. Your new TV comes with an HDMI wire that is roughly four inches long. If you have a more elaborate home setup, you will require a longer cable. At some ripoff joint like HH Gregg, these wires cost roughly $500 per foot. "Oh, but this wire will give your TV the optimal picture!" Bullshit. It's a wire. It conducts electricity. I'm not falling for that shit. Gimme the Kirkland wire.
8. Mounting a TV is a bitch. I mounted a TV once. It took the entire day and I hurt myself and I unleashed a tidal wave of profanity that will have an adverse effect on my children for DECADES to come. But I did save money on the installation, and I'll be damned if I give Best Buy one more cent than I absolutely have to. Smarmy fuckers. If you plan on mounting a TV, you will have to locate the studs in the wall (a seasoned carpenter can do this simply by knocking on it; I use a stud finder because I am half a man), and those studs probably won't line up properly, and the mounting bracket won't be the right size, and you will cry.
This time, I just left the new TV on the stand it came with. Televisions have become so big and light now that children are at a HUGE risk of being injured by falling TV sets. However, leaving the TV free-standing saves me money and time. And Little Junior needs to learn that he can't fuck with Daddy's electronics.
9. Shit never works the first time you hook it up. I know better now. I never turn the TV on the first time in tandem with the cable box and expect it to actually work. I like to hook it up the first time in private, with no one around. And then I wait, and wait some more, and look down at the remote as if a very small man inside of it is trying to pull a prank on me, and then I swear, and then I go troubleshooting. Once it works, THEN I tell my family. I rush upstairs and scream I HAVE GIVEN YOU THE GIFT OF ENTERTAINMENT and then lead them down to our new, emotionally isolated promised land. And they're never as impressed as they ought to be. This isn't a new sink, people. It's a new TV. GET PUMPED GOD DAMMIT.
The Games
All games in the Jamboroo are evaluated for sheer watchability on a scale of 1 to 5 Throwgasms.
Five Throwgasms
Seahawks at Bengals: I know the Bengals are unbeaten but come on, man. I'm not falling for that. They could go 16-0 and still lose in their first playoff game 26-10. YOU PEOPLE ARE ETERNAL FRAUDS.
Four Throwgasms
Rams at Packers: One of the nice things about having Mike McCarthy as your coach is that no one will EVER deride you for being a system quarterback. I know, implicitly, that Aaron Rodgers is a fantastic QB solely because of Aaron Rodgers. I'm not giving Beav there any credit for it. Aaron Rodgers is a frightening genius and Beav should tithe him his salary. If you jump offsides against Aaron Rodgers, he will throw a free touchdown pass. This happens every week, and yet d-linemen STILL jump offsides against him. Any d-lineman that does this from now should be sent to fucking Mars.
By the way, as a fan of a rival team, I cannot tell you how annoying it is that the Packers magically fixed their kicker's yips. Every other kicker that gets the yips ends up out of the league. But somehow the Packers and their asshole fans CURED Mason Crosby of being terrible. It's not right. I won't stand for it. Once a kicker is a haunted shell of a man, he should remain that way until death.
Patriots at Cowboys: What if the Packers and Patriots both go 16-0 and then meet in the Super Bowl? They're the only LEGIT unbeaten teams right now. It's not crazy to think both of them could pull it off. And then I gotta bank on Mike McCarthy outsmarting Bill Belichick with 200 million people watching, all to prevent The Smugpocalypse. Christ. He won't be able to do it. We're gonna have to glue down Belichick's gas pedal that week or something.
Three Throwgasms
Bills at Titans: You know how networks include stats from the Thursday night game when they're listing the stat leaders on the crawl every Sunday? That's fucking annoying. They should cut it out. You can't tell me Joe Flacco led all QBs when he was the only one who has finished a game so far that week. There's not a fan on Earth who is seeing his stats for the first time four days later. "Oh wow! Looks like Joe Flacco did my fantasy team some good!" Once the Thursday night game happens, it's over. It's not part of the week. It is the outcast game. It should be forced to hang out with all the other loser off-week games.
Broncos at Raiders: Denver's defense is so fucking good that I now firmly believe they can win a Super Bowl even though Peyton Manning has had all his bones surgically removed from his body. Like, they could beat Green Bay in the Super Bowl 9-6, and then Peyton would have to sit there and pretend to look happy that his team won despite the fact that he threw four picks and never completed a pass longer than six yards.
Steelers at Chargers: I have to confess something: I love horribly coached games. That Steelers game from last week was a bad coaching masterpiece: just one mystifying play call after the next. That's 10 times better than watching an efficient team that doesn't fuck itself over. Screw that. Gimme a fourth down overthrow to Antonio Brown every time.
Skins at Falcons: The Skins barely beat the Eagles last week which means that they are, locally speaking, back to being the Next Seahawks. I'll pay the Falcons five dollars to win this game 70-0.
Two Throwgasms
Cardinals at Lions: You know what? You should be able to bat the ball out of the end zone. THAT'S GREAT HUSTLE! I salute K.J. Wright for having the presence of mind to seal the victory by committing a blatantly illegal act. That's just good football.
By the way, not only are Pats fans obnoxious, but so are their former players…
Oh, fuck you, buddy. YOU'RE NOT ON THE TEAM ANYMORE. Quit living vicariously through them and go fishing or something. No wonder Marky Mark thought he could prevent 9/11. FACKIN' BELICHICK WOULD HAVE SCHEMED FOR IT!
Colts at Texans: Mild shoulder separation, eh? Ever separate your shoulder? It feels like sanctioned torture. There's NOTHING mild about a shoulder separation. If the shoulder separation is less severe, it should be formerly called a Less Hellish But Still Awful Shoulderquake. That is more accurate.
Jaguars at Bucs: Whoa hey, you're telling me that Jameis Winston has a penchant for committing turnovers? Who could have seen that coming?! If only there had been "tape" of him throwing many unfathomably terrible interceptions back when he was in college. One day, I pray NFL scouts will make that technological breakthrough.
Browns at Ravens: At some point this season, every player on the Browns might follow Joe Haden's lead and show up to the stadium on a Sunday and be like, "You know what, Coach Pettine? NAH." If any team is going to be subject to a mass sit-out, it's the Browns. I'll pay two dollars to see it happen live: a team that's too lazy and uninspired to even go mail it in.
Bears at Chiefs

Saints at Eagles
One Throwgasm
Niners at Giants: Ideally, the Niners would bench Colin Kaepernick until his got his head right and the team around him stopped being so putrid. But they can't because Kaep's backup is… BLAINE GABBERT. Holy shit. The only thing worse than Current Colin Kaepernick is Any-Era Blaine Gabbert. There's nowhere else to turn. Kaep is DOOMED. And it's all because he got involved with these people…
Pregame Song That Makes Me Want To Run Through A Goddamn Brick Wall
"Bridgeburner" by Mutoid Man. Submitted by Nathan:
I have been losing my mind to this song all summer. If this doesn't get you amped the fuck up I don't know what will.
Fuck yeah it does GRRRRRRR COME AT ME BRO I WILL MAKE YOUR FACE INTO A BUTT. LET'S KILLLLLLLLLLLLL.
Suicide Pick Of The Week
Last week's suicide picks of Green Bay, Arizona, Carolina went 2-1, making me 7-5 on the season. Again, we now pick three teams for your suicide pool, along with one thing that makes want to commit suicide. This week, the picks are Baltimore, the Giants, New England, and fighting with children about homework. Here now is a standard homework fight:
ME: Do your homework.
KID: NO.
ME: Uhhhhhhhh…
KID: (still not doing homework)
ME: If you don't do your homework, there will no screens tomorrow (NOTE: This is an idle threat because I NEED them to be on screens the next day so that they'll leave me the fuck alone)
KID: Fine. (sits down) (five seconds later) I DON'T UNDERSTAND THIS.
ME: Now now, it's okay to get frustrated. The point of this is to challenge you, so just do your best and then…
KID: (throws homework into trash)
ME: GOD DAMMIT.
Gregg Easterbrook Memorial Haughty Dipshit Of The Week
I know I defended pumpkin-flavored shit here last week, but this tweet from Peter King is like every dad tweet rolled into one:
Imagine hitting up the MMQB and being like, "Forget scouring through this endless drivel for Peter's three actual, buried news NUGGETS of the week. TAKE ME TO PUMPKIN TOWN, OLD TIMER." Why not just read a beer blog? There are MANY of them. Why make it hard on yourself by relying on Peter King for your pumpkin beer news? He only discovered Shock Top's AUTUMN BREEZE flavor a week ago. I want to see Peter's Hall of Fame of pumpkin beers…
Bud Pump

Bend Brothers "Next of 'Kin" stout

ARRRGHHH PIRATE PUMPKIN PIRATE ALE

Montana Matt's Rude Butt fall porter (comes in a pouch!)

Heartland Brewery's "Orange You Glad?" seasonal amber

Blue "Rotten Punkin" Moon Citrus Spice ale

Michelob

I wonder if Peter's Hall of Fame has a character clause. Could a Darren Sharper microbrew get inducted?
Emmitt Smith's Lock Of The Week!
"This week, I like Marcus Marriott and the Ten Gassy Thetans (+3) to win at home against Buttalo! But that's not all! I'm making a PARLOR pick this week! A three-team taser! I also like the Bears (+9.5) to keep it close against Katniss City, and I like Drew Pees and the Saints (+5) to win in Pedophilia! I don't like what Chip Kelly is doing in Pedophilia! Those Pedophilia players aren't boys! They're MEN! You'll get run right out of Pedophilia if you treat men like boys!"
Titans (+3) at home versus bills
Chicago (+9.5) at KC
Saints (+5) at Philly
2014 Emmitt Smith record: 2-4
Fantasy Player Who Deserves To Die A Slow, Painful Death
Reader Jack is none too pleased with C.J. Anderson:
My first rounder in both leagues cause everyone talked him up. Fuck him. Fuck him with Peyton's numb fingers.
Can't argue with that. It's just like Gary Kubiak to demand a run-first offense and then be terminally unable to choose a primary back. "Oh, we have TWO No. 1 backs!" Fuck you. You have nothing. C.J. is the workhorse. Hillman is the speedy third-down back. Don't just flip a coin to see who gets in for a series. PEYTON IS CRIPPLED FOR GOD'S SAKE.
Fire This Asshole!
Is there anything more exciting than a coach losing his job? All year long, we'll keep track of which coaches will almost certainly get fired at year's end or sooner. And now, your potential 2015 chopping block:
Joe Philbin - FIRED!
Chip Kelly
Mike Pettine
Chuck Pagano
Tom Coughlin
Jim Caldwell
Mike McCoy
Jim Tomsula
Mike Tomlin
Andy Reid
Jay Gruden
The best part about Joe Philbin's firing is that owner Stephen Ross is a hopeless starfucker who will almost certainly go after a big name coach, only to be rejected several times over, forcing him to settle for a Z-list substitute. HERM EDWARDS IS THERE FOR THE TAKING! If you are a famous coach who is between jobs or retired like Bill Cowher, I strongly advise you to secure a $30 million "consulting" gig for this team. It's free money. You probably don't even have to go to every game.
By the way, did you see Dan Campbell's introductory press conference? Holy shit, Le Batard wasn't wrong when he called that guy a bicep with a mouth. Look at this!
"I'm not saying we want dirty players, but we are going to walk that line."
And he ran a fucking Oklahoma drill at his first practice! The Dolphins just promoted Schiano 2.0. From now on, all opposing victory formations will get bum rushed. THAT AIN'T DIRTY THAT'S JUST HARD-NOSED FOOTBALL.
Great Moments In Poop History
Reader Ichor sends in this story I call POOP 'EM IF YOU GOT 'EM:
Back when I was in elementary school and we called bathrooms lavatories, one artful student laid a perfect urinal deuce. It was burnt umber, hard and unbent with nice tapering, just nice... Sure you've heard that story before. Something like 1 in 5 kids have shit in a urinal. What was remarkable is the way the turd was handled.

Several kids, I among them, ran like gangbusters to get the crotchety, limping old Pole janitor, who slowly lumbered in to the lavatory behind us. Before we knew what was happening, he reached into the urinal and barehanded that motherfucker and turned to us, offering it, and said, "Hea...ya wanna cigah?" before flipping the turd, over the shoulder as an embellishment, into the nearest commode.... I never laughed so hard and been scarred for life at the same time.
I want to know more about that janitor. I want to know what he's seen in his life to render him utterly indifferent to bare-handing human waste. I think you can reach that point if you try hard enough. I would never bare-hand a foreign turd, but I have gone toilet diving for dropped sippy cups and what not. I bet if you witness enough atrocities, you just stop caring about whether or not poop is on you. You cross the Rubicon.

Gametime Snack Of The Week
Fudge Stripes! The stripes are key. Thanks to the stripes, you get a little bit of chocolate on top, but you also have some bare cookie on the surface to help improve your grip. If the whole thing were enrobed in chocolate, it might slip out of your hand! That's no good. I prefer the ergonomic design offered here. I could eat through a wall of Fudge Stripes. They are everything to me. Even when they melt a little and all fuse together (the horror!), I still pick up that log of fused cookies and bear down on it like a shark. I'm not afraid.
Gametime Cheap Beer Of The Week
THREE BEARS LIGHT! Reader Brock traveled deep into the bowels of Russia to bring us this unknown beer, only identifiable by the defensive soccer bears on the label:
A few years ago, my wife and I took the Trans-Siberian railroad from Moscow to Mongolia. On the second full day on the train, we stopped at some town smack in the middle of Russia. It looked like they were filming a post-apocalyptic movie there—garbage and abandoned cars everywhere, feral dogs growling at you, a couple of military dudes just chilling in a tank. The store only sold one beer, and it was this one. I can't read Russian, but I like to imagine it says "Team Man-Bear." I like how the surly Russian soccer player doesn't seem surprised or concerned that there are three bears on the field. That is par for the course in Russia.

The beer tasted like it had been rung out of the bears' fur and mixed with the soccer player's sweat, but the bottle was bigger than my head and cost less than a bottle of water.
A Gawker staffer who speaks Russian says the label translates to THREE BEARS LIGHT, because it's jussssssst right. Goldilocks will get properly shitfaced with this stuff. By the way, I'm no soccer fanboy but you don't want to try to score against three bears. They will find a way to stop you.
Brock also sent a photo of that bottle, shown here:
Look at that thing. It's like he's drinking out of a rocket. No bullshit pumpkin flavoring in THAT. We are all lightweights compared to the Russians. You might think you have a high tolerance because your frat bros always make you the anchor in flip cup, but you ain't shit. Ninety-nine percent of Russians will put your sorry ass under the table.
Jim Tomsula's Lifehack Of The Week!
"If you live under a highway overpass, a can opener is a rare and valuable thing. So when you're choosing between Van Camp and Bush's beans for dinner, go with the one that has a pull tab. Pull tabs saved my life in the winter of '96. I saw two buddies get hit by a falling log truck that year. They would have run faster if they had been able to get at that protein quicker."

Sunday Afternoon Movie Of The Week For Lions Fans
Daylight. If you're too young to remember, Daylight is the movie where Sylvester Stallone and a bunch of commuters get stuck in the Holland Tunnel and have to find a way to escape. This is, by no means, a good movie. But I swear to God, every time I have to drive through the Lincoln or the Holland, I always remember it. I always think to myself, "Oh hey, two sudden, simultaneous explosions at both ends of this tunnel could leave me trapped down here forever with Nick Tortelli from Cheers." And then I start tailgating the bus behind me. GO FASTER, BUS. WE GOTTA GET OUT OF THIS FUCKING THING.
Gratuitous Simpsons Quote
"Who spread garbage all over Flanders' yard before I got a chance to?!"
Enjoy the games, everyone.