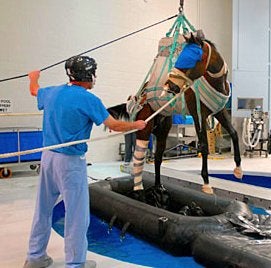 I know today is a day to party and have fun and forget about life's troubles for a few hours, but don't forget to take a few seconds to remember what really matters: deceased horses who once hung from the ceiling while wearing royal blue blindfolds and all sorts of turquoise S&M gear.
Today, friends, let's remember Barbaro, who'd have wanted to watch the Super Bowl. Or, much like your Aunt Judy, he'd have liked to be in the presence of the glowing box with the bright and colorful images while people around him ate Doritos and drank Coors Light. He deserved that much.
Which is why I thank the anonymous television reporter responsible for this exchange with Colts tight end Ben Utecht:
Ben Utecht was approached by a television reporter.

"Are you going to win this one for Barbaro? Are you dedicating this game to him?" the reporter asked, not smiling.

"Barbaro?" Utecht said, not playing along.

"Yeah, you know, a fallen colt?" the reporter asked earnestly.

"What you have there is a tragic situation," Utecht said. "We're just going to go out there and do the best we can."

Asked about it later, Utecht said it was the stupidest question he ever has been asked.

Brilliant. If the Colts lose, Peyton Manning won't even be the most beloved fallen Colt in the nation. The pressure just keeps mounting on that guy.
Super Bowl briefs [Salt Lake Tribune]