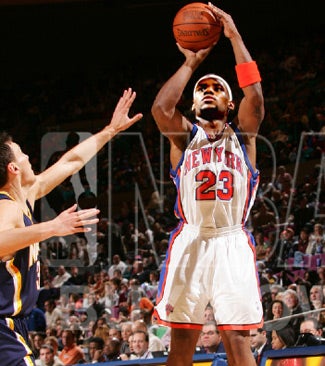 The summer of 2010. That's when LeBron James will shun Northeast Ohio, get a plane ticket, head to New York City, play basketball, and win a championship with either the Knicks, the Nets, or an amalgamation of the relocated Memphis Grizzlies and Los Angeles Clippers, the Long Island Clizzers.
Oh, I thought we were wildly speculating here. Everybody else is doing it these days after James was at a USA Basketball, um, thing and said New York was his favoritest city ever, followed by Washington, Dallas, LA, and his hometown of Akron. No Cleveland in there whatsoever.
So certainly this means that once the Cavaliers muddle through a couple more early playoff exits, their superstar will take an aerial view of Cleveland, furrow his brow, and say "I've been playing here? Danny Ferry told me this was Brooklyn!"
But hold on, says the Plain Dealer's Terry Pluto. Nobody can possibly figure out what will happen two completed seasons from now. There's a hint of controlled reason in his words, but ... look at the Photoshop! It shows he's clearly playing for the New York Pants. Argue that, Mr. Newspaper Man.
Losing LeBron [Yahoo! Sports]
LeBron James' departure in 2010 nothing but speculation [Cleveland Plain Dealer]