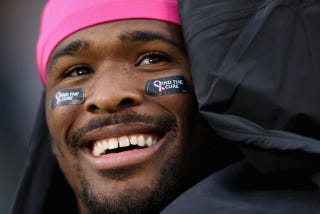 Panthers running back DeAngelo Williams had a disappointing game on Sunday, carrying the ball six times for six yards and fumbling once. Overall, it has not been a good season for Williams (Week 1 line: six rushes for a loss of one yard and one catch for five yards), and it didn't make him feel better when irate fantasy football owners Twitter-scolded him for netting negative-two points (in standard leagues) this week.
Williams was fed up with the hate, so he responded on Twitter:
The "you're just mad because you suck at real football" argument is stale, but then again, insulting an NFL player on Twitter because he's sucking for your fantasy team is a dick move.
Also, Williams has a point: people who own him in fantasy football clearly can't "fantasy coach." Why the hell would you still have him on your team? Are you a masochist? A quarterback leads the Panthers in rushing right now, and Williams is splitting carries with Jonathan Stewart. Cut him loose and add Alex Green or Rashard Mendenhall. If DeAngelo Williams is the keystone of your fantasy team, you've already lost.