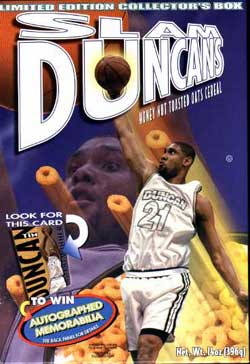 One of our favorite old sports stories involves Doug Flutie, when he was at the height of his Bills popularity, and then-Dolphins coach Jimmy Johnson. In the locker room before the game, Johnson, to presumably fire up his troops, destroyed a box of the Flutie Flakes cereal sold to benefit autism research. This is funny for several reasons.
• Jimmy Johnson thought destroying a box of cereal would inspire his team to win a football game.
• The mental image of Johnson jumping up and down on a box of cereal.
• Flutie, when told about the stunt, responded, "That's like stomping on my son's face." (Note: This is not like stomping on Flutie's son's face.)
Anyway, Deuce of Davenport has compiled a list of some famous sports cereals, including the Slam Duncans! seen above. We had no idea Alonzo Mourning ever had his own cereal.
Actual Sports Cereals You Didn't Know Existed [Deuce Of Davenport]