Through a series of statements, tennis's governing bodies (the Women's Tennis Association, the U.S. Tennis Association, and the International Tennis Federations) are staking out their positions on the sad and entirely avoidable debacle that was the U.S. Open women's final.
Jokic? Embiid? The NBA MVP is obvious... right? | Keep it a Buck(et)
After 20-year-old Naomi Osaka won the match on Saturday, USTA president Katrina Adams released a statement praising Serena Williams for her sportsmanship.
On ESPN, Adams, talking about Williams's comments to the chair umpire, said:
"We watch the guys do this all the time, they're badgering the umpire on the changeovers. Nothing happens. There's no equality. I think there has to be some consistency across the board. These are conversations that will be imposed in the next weeks.

"I know what Serena did and her behaviour was not welcome. A line could have been drawn, but when you look at Carlos in this situation, it's a judgment call to give that last penalty because she called him a thief. They've been called a lot more.

"[He could have said]: 'Hey, we're getting out of hand here, let's tone it down.' I think he would have [said that to a male player], I think it's a bond that they have and they way they communicate, and maybe not understanding they can have that same conversation with the women."
G/O Media may get a commission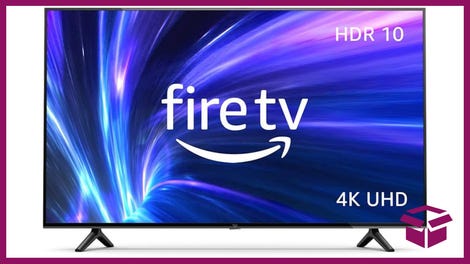 42% Off
Amazon Fire TV 50" 4K Smart TV
Yesterday, WTA CEO Steve Simon (who earlier this summer carelessly discussed a Williams doping test on the phone at a public airport, thus launching weeks of scrutiny into Williams's drug testing history), released a statement decrying the double standard of umpire calls.
"Yesterday's US Open final resulted in the crowning of a deserving new champion, Naomi Osaka. The WTA applauds Naomi for her tremendous accomplishment.

"Yesterday also brought to the forefront the question of whether different standards are applied to men and women in the officiating of matches. The WTA believes that there should be no difference in the standards of tolerance provided to the emotions expressed by men vs. women and is committed to working with the sport to ensure that all players are treated the same. We do not believe that this was done last night.

"We also think the issue of coaching needs to be addressed and should be allowed across the sport. The WTA supports coaching through its on-court coaching rule, but further review is needed.

"Yesterday's match showcased one of tennis's new stars as well as one of the greatest players of the game. We look forward to more thrilling matches between these great athletes and hope that what we all witnessed yesterday never happens again."
Today, under pressure to defend chair umpire Carlos Ramos, the ITF released a statement saying he had correctly enforced the rules:
"Carlos Ramos is one of the most experienced and respected umpires in tennis. Mr. Ramos' decisions were in accordance with the relevant rules and were re-affirmed by the US Open's decision to fine Serena Williams for the three offences."

"It is understandable that this high profile and regrettable incident should provoke debate. At the same time, it is important to remember that Mr. Ramos undertook his duties as an official according to the relevant rule book and acted at all times with professionalism and integrity."
With the USTA and WTA so firmly in Williams's corner and the ITF backing Ramos, we can all continue to fight about the match and who's to blame.