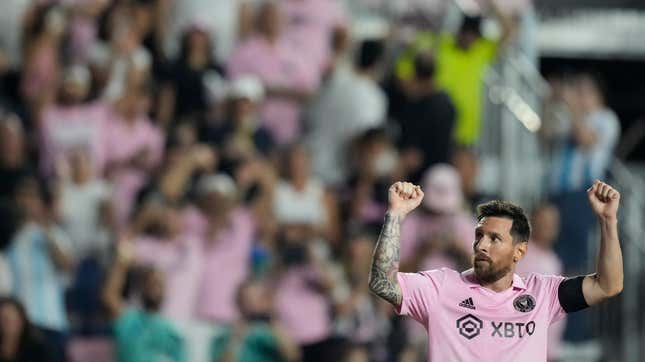 It is a little annoying to keep seeing "Messi dominates MLS" headlines since his arrival because technically Lionel Messi hasn't played an MLS match yet. The league is currently on pause for the first-ever Leagues Cup with Liga MX teams, a different competition. That doesn't mean Messi and Inter Miami haven't seen pretty close to full-strength lineups from Atlanta FC and Orlando SC, but how motivated these teams were in the first edition of a tournament that no one's quite sure isn't a misplaced preseason friendly competition is up for question.
Is Lionel Messi the best thing to happen to American soccer? | Agree to Disagree
On the other hand, five goals in three games is five goals in three games:
Well, that's some defending. Herve Renard, what would you think about that?
Oh, there was this goal as well:
Again, you'd think when No. 10 is anywhere near the box that would be high-alert time for any defender, and yet he finds himself so alone one wonders if he isn't going to get a complex about it. That said, this has sort of always been the genius of Messi, in that he's going to find space even when the specific plan from his opponents is to make sure he doesn't find space.
The next few days will be flooded with a bunch of takes about what a joke MLS is given the way an aged Messi has started against two of their teams, as well as Cruz Azul of Liga MX. But Messi turns every league he's in into a joke. He's only two years removed from scoring 30 goals in 35 games in La Liga. It's just kind of his thing.
More encouraging is the way Messi, so far, has embraced life in MLS, as stories of him and Sergio Busquets hanging out after practice to work with youth teams have already started to leak out (maybe on purpose, but let's think about a kid watching Lionel Goddamn Messi wander over to his practice field for a second). He's even being a delight of a teammate on the field:
Short sample size and all, but one would imagine every MLS owner is doing a very awkward dance somewhere (let's not pretend any sports team owner can dance).
The Cincinnati Reds should have acquired pitching
Yesterday, we cataloged how the Cincinnati Reds misplaced their balls to go for an NL Central title by acquiring some pitching with the obscene depth they have in their system. Depth they'll almost certainly never get all the way through, but the pitching it might have acquired could have created some real moments this season. How's that working out the past two days?
You know it's bad when the mayor of the city of the team you're playing is getting in figurative overhand rights:
Anyway, we're sure Reds fans in 10 or 20 years will kick it back with a beer in their favorite establishment and reminisce about the time the Reds decided to hold onto a bunch of players they'll never see play. That's what baseball is about really.
Hiromu Takahashi vs. ... a dinosaur?
And now, for no reason at all, here's one of my favorite wrestlers wrestling a dinosaur, because that's a thing that happens:
Yes, Hiromu Takahashi does regularly wear a biblically correct angel coat most of the time. Japan is an interesting place.
---
Follow Sam on Twitter @Felsgate and on BlueSky @Felsgate.bsky.social