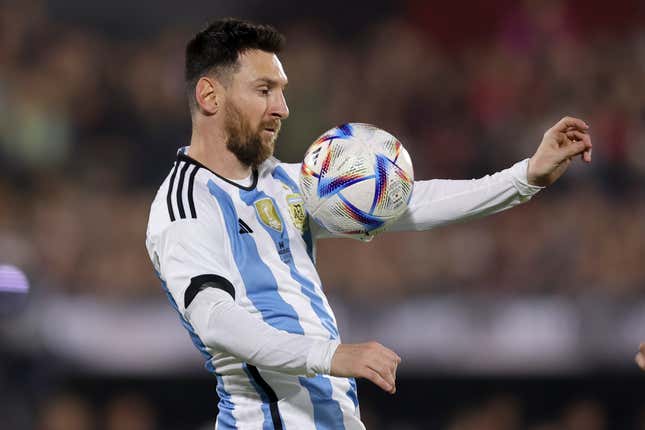 There are seminal moments in the lives of humans: First sexual experience, drink, cigarette, joint, child, marriage, family death, trip to Publix, among others. Once you've been through each, your world view changes, and ideally it's accompanied by a boost in wisdom; for those who've never been inside a Publix now not the nature of man.
France or Argentina? Who wins the FIFA World Cup? | Agree to Disagree
A simple trip to the local market can tell you so much about a people, and whether it's legendary farmer's markets in LA, Brazil, and Italy, or the rubbing elbows with Karens at Whole Foods, the knowledge you gain in a 30-minute shop can be invaluable. I say all this because Lionel Messi made his move to Inter Miami official contractually and culturally, as he was spotted at a Publix over the weekend.
I can't tell you how funny this is to someone who's very familiar with that chain of supermarkets. Once you've visited a Publix, it all makes sense; the tans, the tank tops, the flip flops, the suntan lotion, everything. If you want to know how to do Florida right, go into a Publix for 15 minutes, and you'll know how to dress, what food to eat, what beer to drink, what you need for the beach, and any other insights that you overlooked while packing your suitcase.
Messi is clearly serious about ingratiating himself with the locals as there was a zero percent chance he wasn't going to go viral for pushing a cart up and down those hallowed aisles. If you want a jalapeno, you're going to have to commit to the whole plastic-wrapped container. Can I interest you in some ice-cold SweetWater Brewing Co.? How about a beach umbrella, or enough Banana Boat to protect New York twice over?
Your BAC rises simply by walking into a Publix, and if you're already above the legal limit, you get a free PubSub. Walking by the seafood counter elicits drool, and the produce section makes you want to dice up pico until you get that little blister from precise knife work. It may feel like I'm rambling like a 10th grader trying to bulk out a book report, but I'm serious: this may be the most important development in sports of this century, and if not that, at least the past 72 hours.
I know Floridians have become polarizing figures, with their Meatball Ron shirts, rightward agenda, and disregard for the dangers of skin cancer, but goddammit every member of the Sunshine State is on equal footing as soon as they step into a Publix. (Unless that person is Ron Desantis, then the store should be sacrificed at the altar of Florida Man.)
And today, or whatever day it was that Lionel Messi went to Publix for the first and last time ever, he is a true Floridian, a Miamian through, and through, a persona grata if you will.
Unseeded Marketa Vondrousova wins Wimbledon
The now No. 10 player in the world, Marketa Vondrousova, became the first unseeded woman to win the ladies' singles title at Wimbledon, defeating Ons Jabeur, 6-4, 6-4
Vondrousova is the third Czech woman to accomplish the feat, and it's hard to not feel good about her story. She holds Wimbledon in such high regard that last year she attended as a fan due to an injury.
"The comebacks aren't easy," Vondrousova said. "You never know what to expect. I was playing small tournaments and hoped to come back at this level."