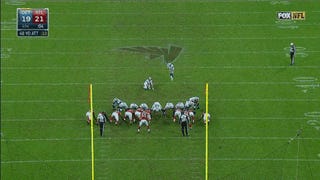 We're used to the Lions beating themselves, but today, Detroit screwed themselves so badly, they won.
Down by two, the Lions got the ball with 1:38 remaining after a poorly managed Falcons series, and manufactured a drive to get into field goal range. Keep in mind that the Lions are on their third kicker of the season, Matt Prater. They're 6 of 16 on field goals. Prater lined up for the 43-yard attempt, and it went wide right as time expired.
Wait a second, a flag! Even though the Lions managed the clock perfectly for their attempt by kneeling then spiking the ball, they somehow got hit with a delay of game. That penalty's automatically enforced, so the Falcons couldn't decline it and win. The Lions got another attempt, at 48 yards, and Prater nailed it for the Detroit victory. Congratulations on sucking so hard, Lions.
As for Atlanta: