An NFL team wants to use a player up. Wants to squeeze every last bit of effectiveness and of health out of him, while he's still under contract, and then discard him. It's the nature of a salary-capped league where most players' careers are over before they turn 30, a brutally cold calculation that everyone on both sides of the negotiating table understands.
Jokic? Embiid? The NBA MVP is obvious... right? | Keep it a Buck(et)
Le'Veon Bell understands it. It's why he's holding out, calculating that at his age and with his mileage, another season of 400-plus touches could wear him down, an injury would sabotage his offseason, when he will enter unrestricted free agency for the very first time in his career. He's right to fear it. The Steelers, knowing they're not going to re-sign him, have no incentive not to run him into the ground. It's a business, and the business model says to squeeze him dry. After all, what do they care if he's useless after he's no longer a Steeler.
Earl Thomas understands it. The Seahawks' six-time Pro Bowl safety, 29 years old and entering the last year of his contract, wanted an extension. Seattle showed no intention of giving it to him. So he held out, the entire preseason, to avoid injury and wear-and-tear. He reported on the Wednesday before Week 1, the final day he could report to get his game check. Thomas made it very clear: he's going to play, but he's not going to give the Seahawks any more of him. Because they want it all.
Thomas no-showed two practices this week, on Wednesday and on Friday. ESPN reports he's going to be fined for it, and Thomas said he knows he'll be fined. He was asked, after a 24-13 win over the Cowboys in which he snagged two interceptions, why he's skipping practices. His answer was refreshingly honest. More honest than anything a team is ever going to say publicly.
"I need to make sure my body is 100 [percent]. I'm investing in myself. If they were invested in me, I would be out there practicing."
G/O Media may get a commission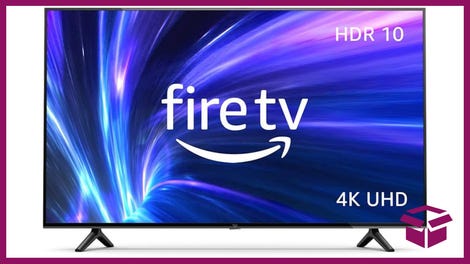 42% Off
Amazon Fire TV 50" 4K Smart TV
Thomas is investing in himself. The future Thomas who will be 30 years old next season, and looking for a big contract from some other team. Or the Thomas who gets traded, as early as this week, and suits up in another uniform next weekend. Or even the Thomas who signs a long-term deal with Seattle. All of these future Earl Thomases need current Earl Thomas to keep himself healthy, until he gets pen to paper and gets paid. Until an NFL team invests in him.
From the transcript of Thomas's postgame media availability:
What's your mindset now? Was this your last game as a Seahawk?

ET: I don't know if it was, but I had a damn good time and I'll go out like that if I have to.

Is there any part of you that is still hopeful that something can be worked out in Seattle or has that ship sailed?

ET: I just want to be appreciated.

And you don't think you're appreciated here by this organization?

ET: I mean, show me.
Thomas is showing everyone something. He was PFF's top-rated safety in the NFL through the season's first two games, and that was before yesterday's two picks. On his second, he offered a bow to the Cowboys sideline.
Dallas attempted to trade for Thomas in the offseason, with their offer of a second-round pick being turned down by Seattle. It was reported Sunday morning that the Cowboys are back in the hunt for Thomas, as are the Chiefs. Thomas said that when he was warming up pregame, he heard a couple Cowboys coaches yelling at him, trying to mess with him: "You ready for the trade tomorrow?" Hence, the bow.
In the NFL, contracts are not contracts, not in the sense you'd understand the word in any other context, including all the other major sports. A team can terminate a contract at any time, if it decides the terms are no longer in its favor. Quite literally, a player's only leverage is holding out. And Thomas isn't even doing that! He's playing every game, and remains the NFL's best safety. For $10 million this year, Seattle's still getting a bargain. Thomas has and is utilizing the right to protect his health and his earning potential, even at the expense of a raft of fines, because he is the only party here who cares. Everyone knows that; he's just one of the rare players who will say it.