Your morning roundup for Oct. 1, the day the nanny state says you're no longer allowed to legally fornicate with animals in Florida. Got any stories or photos for us? Tip your editors.
The best sports movies according to Toheeb Jimoh
What we watched: Caved in and watched the Bartman documentary last night/this morning. I know, late to the game. Couldn't bear to watch it earlier. Still have no forgiveness. But pity, that came during those concourse scenes. Nobody deserves death threats. Well, not about a baseball game, at least. Pedo rapists do. Pasty patsy turtleneckers don't.
Yet, there's one thing that gnaws at the spirit, that being the convenient lie which maintains the play was not to blame for the Cubs collapse. That it was just one of a series of events. That Alex Gonzalez's sloppy shortstop play deserves equal time. No. No no no. No. Just stop it.
G/O Media may get a commission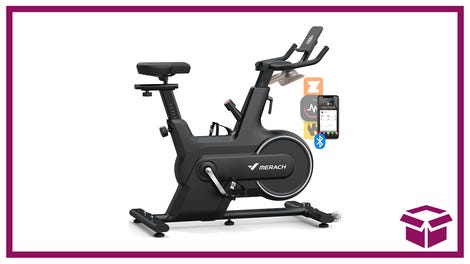 14% off + Coupon
Merach Indoor Cycling Bike
Newton's laws of motion apply in various forms all along the theist/atheist spectrum. Whatever you want to call it — fate, momentum, destiny, God's will — one little happening decides an entire timeline, moving beyond the equal-and-opposite reaction in many cases. Much of the world's tension traces back to Archduke Franz Ferdinand's jugular. Well, the second Moises Alou jumped up and down like a petulant bitchboy, glowering at the mope listening to the seven-second delayed account of what he'd just done, it was over. Hope was gone, and not just a year's worth.
There is no denying this.
Horse out of the barn. What's done cannot be undone. Can't put toothpaste back in the tube. On and on and on. If you believe in a higher power of any sort, even if it's a human script based on a series of coincidences, that foul ball set events in motion that could not be undone. And you shouldn't need a documentary that unnecessarily dusts Bill Buckner off to know that.
Elsewhere
"He represents what we believe we're about": "After catching the strike, Hamilton walked out to Cooper at the base of the mound, dropped to his right knee, and gave Cooper a huge hug. Hamilton then gave Jenny Stone a long embrace, and the two shared a private conversation before Hamilton gave her another hug, embraced Cooper once more and escorted him off the field to thunderous applause from the stands and from inside the Rangers' dugout." [Star-Telegram]
Rays win 9-0: "Instead, Moore took advantage of the creeping shadows, the Rangers' unfamiliarity with him and his blazing fastball to dominate, allowing only a two-out single in the first and a leadoff double in the fourth. Of his 98 pitches, 70 were fastballs and 52 were clocked at 95 mph or higher. 'You can't be more impressed,' Maddon said. 'What he did was spectacular.'" [St. Petersburg Times]
Two teams enter, one will blame last night for ending their season: "There's no getting around the obvious here: you can argue which team needed its ace more in this series, and which is hurt more now that both CC Sabathia and Justin Verlander will be limited to one start in this series. But you can't argue that Friday night's rainout hurts the Yankees more than the Tigers simply because A.J. Burnett almost certainly gets a start now, in what could possibly be a win-or-go home Game 4 in Detroit. Yikes." [New York Daily News]
Today in Awful Dan Shaughnessy sentences: "On a bizarre and historic Friday at Fenway, the Sox and Francona generated more spin than the Harlem Globetrotters." [Boston Globe]
Your JGarzzle Interlude:
BYU beats Utah State with late 96-yard TD drive: "This whole sequence of events makes USU's losses to Auburn and Colorado State seem rather routine. At the time, each of those defeats seemed punishing enough, but this one easily topped them. The Aggies easily could be 4-0, having led by at least three points in the final minute and by between eight and 11 points in the fourth quarter of all three losses. 'Why it is, I don't know,' Andersen said." [Salt Lake Tribune]
Sure, T.O. would make a fabulous ambassador: "It makes some sense to have Owens out there promoting the league: When he wants to be, he's a charismatic and engaging figure. I'd expect British fans to get a kick out of him." [PFT]
Today's Soccer Viewing Recommendations: 1899 Hoffenheim vs. Bayern Munich (GolTV, 9:30 a.m.). Manchester City United vs. Norwich City (Fox Soccer Channel, 10 a.m.). Inter Milan vs. Napoli (2:30 p.m., FSC). Red Bulls vs. Toronto FC (7:30 p.m., FSC).
Merch: Managing editor Tom Scocca and contributing editor Drew Magary have both written books. You can buy Scocca's Beijing Welcomes You: Unveiling the Capital City of the Future here, and Magary's The Postmortal here. Now do it.
(Soccer call H/T Tomuban)