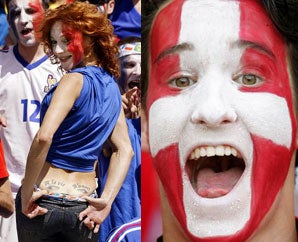 One of our favorite essays in the new "Thinking Fan's Guide To The World Cup" is the one about England from Nick Hornby. He writes about how difficult is him to root for England in the World Cup, considering that his favorite team, Arsenal, has so many French players. We understand this completely; if the World Baseball Classic ever became truly huge, we'd find it near impossible to root against Albert Pujols ... even if we do like this here country we live in.
So he should enjoy this one, with France taking on Switzerland in Stuttgart, home of the T-shirt launching Mastercard employees. We still think it might be more fun to watch France and Switzerland try to fight a war against each other, but in lieu of that, we'll take a soccer game, just fine.
Your live-blogger is Alex Churchill, who took us home yesterday during the Italy-Ghana match. Leave us your "Charles In Charge"-esque comments, and if you have any messages for Alex himself, send them to us and we'll make sure he gets them. And enjoy!
———————————————————————-

FULL TIME: As Dick Howard again tells us that it was a chess match, we let the sun set on a thoroughly indifferent nil nil draw. The Swiss have to walk away happy from this one as it does open up a slight crack of possibility that they might advance. As for France, they are currently blinded by the sights of both their own nation, as well as London and ladies underpants.
MAN OF THE MATCH: I have to pull for Ribery, even though he just couldn't finish what he started.
THAT'S ALL VOLKS, I can only hope to type at y'all again real soon.
92: The free kick is released, and Alexander Frei, living up to his surname, attempts to cheat by pulling a hand of god. The ref, unimpressed hands the Swiss their 117th yellow card of the match.
91: With 3 minutes added on, a free kick off a near red-cardable tackle in the French end. Before the kick hoes off, Sagnol joins his fullback partner in shame by taking a yellow in the scrum.
89: As the security people tromp into the stadium, Dohlosou, on in substitution for Wiltord (shows what I know) gets the best chance of the match, pipping one to the right of the Swiss goal.
85: Another nice French mid-field move that seems to stall just before getting into range. The Swiss defence has, thus far, proven very much more like old cheddar or a really rhiny Pecorrino than the obvious cheese metaphor.
84: Wiltord is removed from the proceedings, presumably for more pace or something else I'm too non-French to understand.
81: Wiltord streaking down the left side, outside foots the ball to Zidane on the trot who chips it between two defenders juuuuuust at the far end of Wiltord's stretch. Remember when I said that Zidane was like golf? I meant Golden Tee, on an easy level. As you can probably assume, my only exposure to Golden Tee is through Simmons never actually having played the game myself.
80: Switzerland wins a free kick (or, perhaps a Frei kick) in the French half. Before it's taken, Wicky comes on for Margairaz. Which is Wicky, Wicky wack you ask me. The FK gets driven into the French wall.
77: This match is taking second place to the strange drama developing below the big screen in the bar I'm in. There is a gent with not one, not two, but three phones, home phones mind, connected to his lap top and answering them as different businesses. I should ask him for a job. Or jobs.
74: Proving that one one Swiss is sometimes better than another Djourou comes in for Muller — I can only wish I had the technical aptitude to include the oomlats on that name. Or to correctly spell oomlats for that matter. I'll stick with power dots from now on.
71: Cabanas gets booked for a hard tackle, Zidane gets booked by taking the ensuing free kick before the ref whistled it in. In a game of inches, Gallas missed by millimeters on the second free kick after the second yellow card. Got that?
70: Ribery out and Saha in. Now, I realize that this is one of those subs that has a tactical depth that I, a mere colonial, could not possibly understand but why do you take out the one guy who has consistently been giving the opponent fits?
66: We have a real injury! Swiss defender Ludovic Magnin appears to have injured his ankle. He also appears to be attended to by half the staff of the Mayo Clinic
64: FANTASTIC chance on the counter-attack by Frei. Proving his predatory nature in the box, he jumps on a long ball right in front of Barthez and then attempts to jam it down his ugly mug. Both the shot and Frei are repulsed.
63: Eric Abidal takes a yellow card for France, which leads to a Swiss free kick. It curls in and Barthez clears it with one of those clasped hands girly-punchy things that always remind me of grade school athletes too inept even for volleyball.
61: Fantastic run by Barnetta I believe, he tries to slot it into Frei charging up the center, but the play gets broken into a million little pieces by Silvestre. Sorry, I just saw the opportunity to use that gag slipping away.
59: Great full-back play on both sides.
58: Wonderful tackle on Makele by Swiss defender Senderos leads to a French corner. Which sounds like something that might happen at your finer hotels.
56: SWISS SUB: Streller for Gygax
56: Degen takes a yellow card for the aforementioned Swiss finish, but without the customary free kick. Our announcer is incensed. I am not so much incensed as confused.
55: Zidane takes a Swiss finish in the face. Contrary to the joy such a turn of events would lead to at the rub n' tug, he looks rather miffed.
54: Ribery is simply ripping up the Swiss midfield.
50: Henry wins a clever corner off a long ball from the midfield. Nothing comes of it other than Ribery looking disgusted.
47: Zidane and Ribery conspire to give Viera much, much more than he deserves. Thankfully, North London and Roy Keane's favourite asshole slides it wide. Not to worry, I'm sure some of his brother/agents will be there to clean up the mess.
46: French corner won by Makelele. on the ensuing set play, Viera attempts to get the Swiss keeper in Dutch with a bit of play acting.
START OF 2H: Consider me -1 on Jose +10. In other news, TSN (that's like our weirdo Canadian socialized medicine version of ESPN) pundit and all-around joke Dick Howard says this game has thus far been like a chess match. Cheese match is more like it. Second half subs? I don't know. But baseball, been bery bery good to me.
BIG HALF TIME NEWS! Peter Crouch will abandon his robot goal victory unless England wins the World Cup! By the time England wins the World Cup, Peter Crouch won't just do the robot, good parts of him will BE one.
HALF TIME of HALF TIME: The talk is revolving around the disputed handball. Ball to hand? Hand to ball?
HALF TIME: Largely, the tentative match that seemed to be expected from two teams who know one another quite well. Frei had a golden opportunity while Henry and Ribery both had their share. Zidane is still divine, I don't care if he's 86.
45: I'm sorry, but watching Zidane play is like golf: It is that one shot that keeps you coming back. Just before half he essentially scoops the ball over a Swiss defender trying to hit Ribery. Ribery is tied up in the run, but what a magnificent ball from Zizou. If he decided to start foot painting, he would be the best.
44: Another yellow card to the Swiss. This time the French quickly take the free kick, Henry runs it right into the keepers hands
43: That French chance back at 37? Handball for sure. Fine, you try typing and watching at the same time.
42: A yellow card is handed out for not having kicked the ball to touch while Henry was acting out his personal drama in the Swiss end.
41: The crowd is raining whistles down on the field after Henry slid at a long ball in the Swiss end and gave himself a boo boo. The Swiss, showing typical pragmatism, do not kick the ball to touch.
39: Zidane takes the ball just his side of half, turning, picking up speed and - seemingly without looking - whips it down field to a streaking Henry who nutmegs the defender on the shot right into the hands of the waiting keeper. Henry is, to my mind, a bit like a French Ian Wright.
37: Ribery is loosed onto the right side by a MAGNIFICENT ball, he gets in alone and chooses to pass to a trailing Zizou coming up the middle. In the nomenclature of the hockey that is in the ascendant in these parts... SHOOT IT!
PS: Elephant ass = high and smelly
32: Henry rifles one wide from the edge of the box. The Swiss keeper saves it despite its wideness. He appears to be very dedicated to performing that task. Soon thereafter, Frei is taken down rather rudely whilst in the process of contemplating a bicycle kick in front of Barthez. FIFA sanctioned officials employ wisdom and experience to determine "no foul"
30: Free kick to France leads to a move through Zidane and Henry to Ribery who elephant asses it up and over the Swiss goal. Good chance, poor finish - like many of my attempts at "losing it"
28: Swiss defender Philipp Degen does a nice job on Ribery on the left side forcing a goal kick. He's going to be busy if the fly boy of football Francais keeps this up.
27: Zidane coughs up the ball in the Swiss end and the ensuing counter attack seems to die like a similar move in a men's beer league. Very strange.
26: That was the first serious opportunity for either side, something tells me the Swiss won't get too many more. That having been said, they seem to be growing in confidence.


23: Free kick to Switzerland - Barnetta takes and THE FRENCH DEFENSE DESINTEGRATES (we've seen that before), Frei rings it off the wood, gets it back and then roofs it. That should have been 1-0 Switzerland.
21: It is pointed out that no fewer than 6 of the Swissies could be eligible to play for other countries. I'm thinking the Pittsburgh Steelers do not front a similar flash of internationalism. With the exception of noted Swiss motorcycle enthusiast BR.
20 MINS: Long ball to Henry who dribbles the ball across the 6 yard area.
18: Nice strike by the wonderfully monikered Swissie Tranquillo Barnetta. I think "tranquillo" is relax in Spanish. I can only imagine hypnotherapy in Spanish would be a confusing event for our man.
17 MINS: In direct contrast to yesterday's cracking Italy Ghana game (I'm sticking with my description of citizens of Ghana as Ghanese BTW), this game has had the thrills of an insurance convention.
14:43 The picture froze here for a moment, leaving me feeling sad and sleepy.
12 MINS: Free kick off a foul on Wiltord just outside the area - Zidane lobs it in in the general direction of Gallas. It is headed away by the Swiss like so many GATT guidelines on banking secrecy. Which lines up a cross, Zizou takes and... nothing.
11 MINS: The aforementioned Cabanas unleashes a worm burner from I'd say, about 35 yards. It slides wide.
10:30 A flash of Zidane of old as he runs over Ricardo Cabanas in the mid-field to win a free kick
9 MINS: We have a cold war stew out there - Russian refs, American SL crew and neutral Switzerland making France look good.
5:22 We enter a time warp for the first two thirds of the best chance so far as Zizou flips onto Wiltord and he crosses (too high) for Henry.
4:30 A nice Swiss movement (wait, let it rest, it'll come to you) yields the first real opportunity of the match.
3:30 Ribery again flashes up, this time on the right side
2 MIN: Ribery shows some of the brilliance that makes him a favourite with ALL the ladies. In the process, he blows by a slightly confused looking ZiZou in the hole.
OPENING WHISTLE: The international feed throws to a shot of the pull-tabs of the Swiss shoes. Cool white crosses on red. Quick, someone call Paul Lukas!
COIN FLIP: Zidane, his bald pate as shiny as the object of his attention at the moment, wins the coin toss. His purposeful stride back to the bench inspires a rousing round of La Marsellais (sp).
PRE-GAME: So, thanks to the raging incompetence of the Republic of Ireland in Group 4 qualifying, both Switzerland and France are invading Germany (for a change). These squads played one another twice over the course of qualifying — with the Swissies picking up a pair of confidence-boosting ties in the process.
Of course, in France, the real story of qualifying was the dream-inspired return of Zizou, the man who controlled French destinies in both 2002 and 1998 — with drastically differing results. Factor in a Euro2000 win and it is easy to see why Zidane is more popular in France than capitulation. It gets the press, but for the purposes of this match, the Zidane story is a sideline. The real story is who will replace the skill and broken leg of Liverpool striker and dye model Djibril Cisse next to the REAL star of this squad, Thierry Henry. The answer, much to the consternation of the ink stained wretches of France, is another oldster, Sylvain Wiltord. Further contributing to their stress level is Raymond Domenech's selection of Mr. Linda Evangelista himself Fabien Barthez between the pipes. Also, watch for the current it boy in the mid-field at the Stade de France, Franck Ribery.
As for the Swiss, a 12-year break from this stage has not only allowed them to further corner the global market on cuckoo clocks and chocolate, but also develop some fine young talent. Foremost amongst it is star striker (and Totti-esque spitter) Alexander Frei. ESPN tells me he is a "natural predator in the box" which, while frightening in the extreme to me, should keep the French fullbacks on their toes. Also, keep an eye on Johann Vogel (#6) in the mid-field as he goes toe to toe with Ribery.
All in all, this group G match is one that France is expected to win and failure to do so would result in a Cantona drop kick to the chest. The Swiss, should they pull out another tie in this one could harbour hopes of advancing. If there is any justice in the world, this banking rich alpine heaven will finally overcome the crushing disappointment of their surroundings and pull this one off.