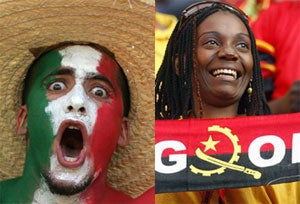 Since our attentions are usually more focused on the World Cup than, say, any other aspect of soccer, we always forget that Mexico is the United States' main rival; they kind of hate each other. How happy Mexico must be now, then, since they're just one win away from the Final 16, while the United States looks like toast toast toast. Braggin' rights, we guess.
So, it's Mexico vs. Angola, with the Final 16 awaiting the Mexicans if they can pull this off.
Your live blogger, the last of a very busy week, is Eamonn Brennan, also from We Are The Postmen, and he is all ready to rock. Email us with thoughts, follow along in the comments and, hey ... go Angola! Why not?
—————————————————————————
FULL TIME: That's it! Angola holds on, with a gutty performance rivaling that of Trinidad and Tobago's from earlier this week. Mexico has to deal with shame, even though they're still likely to advance into the Round of 16. Portugal's up next for them.
OK - they're showing the Argentina highlights again, and I would like to watch that. Thosee of you that read this, even a few lines passing through, before you realized I'm not a good writer, I thank you. It was a lot of fun, despite my inferior computer-jockey skills.
93: With about 30 seconds left, Mexico throws one into the box and Ricardo handles it.
91: Angola pushes forward now, winning a throw in near Mexico's corner...come on Antelopes. Just a few more minutes, men.
90: Mexico loses the ball again. Mexico continues to push forward, but nothin' doing. Three minutes stoppage.
87: Marquez hits a cracker from distance and nearly gets one; cross gets over Ricardo's head and Bravo hits the net. This is getting serious.
86: ESPN's Jared Borgetti update: "Will not play in today's game." Maybe the program director at ESPN is getting his updates from ESPN mobile.
85: Mexico pressuring a lot here, and Angola's defense is holding strong. Mexico corner...foul on Mexico. Out it goes.
82: Angola's dude with crazy front braid-mullet throws it in after a good Angola possession, but Mexico counters immediately. A neat chip to the back post by Pardo puts it on a platter for Fonseca, but he makes a mess of the volley.
79: Marquez rapes our friend No. 9 in the middle of the field as Stone and his buddy indict the Angolan defense for opening up too man gaps. Ze Kalanga wins a free kick for Angola in the counterattack, and Mexico subs in Morales. Mexico clears the corner pretty easily. Uh-oh...an Angolan midfielder (name, Stone!) gets his second yellow of the day, and he's off. Can the Black Antelopes hold on a man down?
75: Mendez works off a great 1-2 to get into the box, but Ricardo and his backs collapse on it before to long. By the way, Ricardo and His Backs has the potential to be a great band name.
73: Angola dinks it around in back, and a corner kick results. Ricardo does well to catch this one (with two hands this time) and boots it away.
72: The subs are coming in. Mexico brings in Fransisco Fonseca for Franco up top.
69: After a series of corner kicks, Ricardo comes off his line to pull Angola out of it again. Hopefully this blog updates before this Angolan defense collapses.
67: Angola subs in a forward for a midfielder. All I can tell you about the sub is that he is No. 9, which usually indicates goal-scoring ability. Come on No. 9!
65: Angola fails to clear it, and Omar Bravo has a wide open chance from 12. He muffs it right to Ricardo, and again the Mexicans fail.
64: Mexico lofts one to Angola's back post, but Ricardo controls it, again, with one hand. Very nice.
62: Mexico does a little of their own offensive stuff here, but the 1-2 at the top is left wanting when Marquez abandons it.
59: Angola puts a little offensive possession together here, and they're doing well to control the pace. A cross goes in, but no luck. Mexico throw-in.
55: Tremendous exchange here. An Angola forward has a great chance, but the Mexicans counterrack immediately, and the clearance comes from an Angolan defender after the goalie was already beaten. Alas, the Black Antelopes still have life, but Mexico is certainly the agressor here.
50: A good service from Mexico leads to a minute of short breath, but again, nothing. Mexico's manager looks a bit muffed here; maybe he should just say Eff It and light one up, arleady.
48: So we're back, and Torrado, who looks like an hispanic Sideshow Bob, commits a foul in midfield. Mexico has a chance but the cross is muffed,, but here we've got Mexico's first corner kick of the game. Angola does well with it. Still nothing earth-shattering to report.
HALFTIME: So, as I sit in the bliss of those Argentina highlights from earlier today, let's take a look at what we know. Angola is pretty technically raw, but they've done just enough to keep Mexico off its pace. Mexico could probably do well to add Borgetti, but since that's not going to happen, they'll need a bit more creativity. As much as I hate them, I hope someone finds something here, because there are only so many Rob Stone references to be had in this one. Well, without further ado, on to Partido Dos! (Rob's got nothing on me.)
46: That's the first half. Good stuff by Angola, but not a particularly exciting half of soccer. Could be a worse time to be at work, if that's your scene.
44: Not much more going on here. Angola is doing well to keep Mexico on their heels a bit, and haven't faced much pressure for their trouble.
40: Another corner for Angola. Alas, offsides on the short corner. Shoot, I really wanted to work in a lame a "No Mas" joke there.
39: One Angolan player was quoted by Stone as saying "We have shown that Angola is about more than oil, war, and poverty." You know what? That's damn right. Go Angola.
37: Speaking of Rob, he just busted out the Spanish. That sly devil. Communications major, I presume?
35: The Black Antelopes are pressuring the Mexicans a bit here, and Rob Stone (and this other guy, whose name I've yet to capture) are doing a pretty damn good job with this broadcast. We could have two upsets today.
34: Angola corner kick, but again, no real threat. Come on! Give me something here!
32: A good cross from Mexico, and the Angolan goalie leaves the rebound in front of the net, but it's cleared away just in time.
31: Angolan striker takes a wild chance but earns a free kick just a few yards outside of the box. Could have a go here...ah, a cross, and a good header from distance, but no real threat.
28: A little more midfield play, with nary a chance on goal. The Mexicans have most of the ball, but can't make anything of it.
24: Free kick for Angola, which, as Rob Stone points out, have the nickname "Black Antelopes." "Great nickname" says Rob. Can't disagree. Oh, and the Angola free kick goes pretty wide.
22: Figuerido launches a shot over the net. Nothing fantastic, but Angola is getting some chances, at least.
20: ESPN just flashed a graphic with the breakdown of money some Angolan bank is offering the National Team's players. $5,000 for any Man of the Match. Is that Angolan, or U.S.? Not to rip on Angola's economy or anything...
16: Yet another Mexican free kick. Pardo lines it up, and...a great play by the keeper to, well, keep it from landing on a Mexican striker's head. Not bad.
14: Rob Stone just offered the Angolan guy with the "reverse mullet" his vote for "worst haircut." Rob, you don't get a vote. In fact, why are you broadcasting this game? Where's JP Dellcamera? What's going on?
12: Mexico gets into a middle gap, and Angola's Delgado brings the dude down. Oops, that's a yello. Another free kick for Pardo? No...Marquez hits it off the post! Wow. Almost lost Angola, just like that.
11: So I didn't notice them last game, but Angola's jerseys are pretty wild. Even the shinguards are high art. I like.
9: Mexico has a free kick outside the 18. Pardo hits a shot over the wall, but no trouble for the Angolan keeper. Away it goes.
7: Angola's Kalanga goes down for the second time, which means he might actually be hurt. Never can tell, those footballers. Well, here's the stretcher.
5 min: Again, technical difficulties are running amok, but I'm hoping (cross fingers) that this little update reaches you. Each side has had a couple looks at the goal already, but nothing major happening.
Pre-Game:
Angola: Use a little imagination for me on this one. Imagine that this was World Cup 1830, and in the first match of the first World Cup the U.S. had ever been to, they played the UK. Things would probably not have proceeded amicably. That was basically the situation that faced Angola in their first match against Portugal Sunday, and even though they lost 1-0, it was a major improvement over the 6-0 and 5-1 debacles they yielded to their former colonial power. Plus, no one got in trouble, a far cry from the last game between the two, when four Angolan players were sent off. That's fight, right there. It's hard not to root for the African side for that reason, and of course, because they're playing. ..
Mexico: Could El Tricolor be the third team to guarantee a placement in the Group of 16 today? It looks likely, unless our friends from Angola can put things together and challenge them. The Mexicans are missing their star, Jared Boghetti, so the attack that Iran held off for over an hour could be even more challenged today. Realistically, though, Mexico should win this, and if they do, they should thank their lucky stars that they got the group draw that they did, and not the U.S.' Grupo de Muerto, those lucky bas- ... Sorry. Just a little bitter over here.
Ok, so with that, we're off over on ESPN. Please send all sorts of e-mails to eabrenna@wearethepostmen.com, especially when I get things wrong, because, honestly, I know zilch about the intracacies of either of these squads. Which puts me a little ahead of JRob Stone's curve.
In honor of MJ's return to the NBA (kinda), indulge me this honor. All together now: What time is it? GAMETIME, HOO!