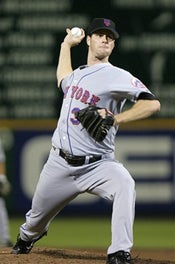 This is John Maine, and, so it's known, he's really not a bad pitcher. (Why did everyone act like El Duque was somehow Johan Santana, anyway? You know he's about 84 years old, right? Plus, now the Mets have Oliver Perez on their roster, so what could possibly go wrong?)
And right now, he's going to take the mound in Game 1 of the most intriguing Division Series matchup, with the Los Angeles Dodgers playing at Shea Stadium against the New York Mets. The predictions are veering toward the Mets, but we are not so convinced.
But anyway, yeah: Your starters are Maine for the Mets and Derek Lowe (!) for the Dodgers. Shea will be rocking, as much as a place with 50,000-plus people stacked in a directly vertical fashion can rock.
And your live blog begins after the jump, and you're in luck: You've got some new blood in there today. You're in the capable hands of The Mighty MJD. Play along with him in the comments, and email him if you have anything you want to add. Enjoy.
Top of the ninth inning:
Closer Billy Wanger's on for the Mets.. he'll be facing the 9, 1, and 2 hitters. First is Wilson Betemit... and Betemit's going to drive a double into the corner... tying run is now at the plate.
Gary Thorne keeps calling Carlos Delgado "Delgardo." Is there a hockey player named "Delgardo" or something?
Olmedo Saenz lifts a flyball into the centerfield... and that'll move the runner to third. Great throw by Beltran, though.... would've been a very close play if Beltran's throw hadn't pegged Betemit in the back.
And Wagner strikes Furcal out, swinging at a ball in the dirt. Two down now...
Ramon Martinez is on as a pinch hitter for Kenny Lofton. Wagner falls behind 2-0... and then Martinez gaps one, scoring Betemit. Martinez gets an RBI double, and the tying run is on second, with Nomar Garciaparra coming to the plate.
And Wagner struck him out... and the Mets win an entertaining Game One, 6-5.

Bottom of the eighth inning:
Jonathan Broxton is your pitcher. He has ridiculous sideburns, that are sort of faded from dark to light, going side-to-side... I don't know why anyone would do that. He gets Valentin to pop out for the first out.
Broxton also his a big ass. I thought it was worth mentioning.
Chavez grounds out to short for the second out, with a nice play by Garciaparra to dig the throw out of the dirt. Reyes knocks a hit into right field off of Jeff Kent's glove... Gary Thorne calls it a base hit, I'm rooting for an error. Paul Lo Duca is up, and Billy Wagner is up in the bullpen.
Hit and run executed by Reyes and Lo Duca... Lo Duca singles to right, and Reyes is on third. Big-ass Broxton might be struggling a little bit here. Beltran's up.
And after hitting a couple of hard shots foul down the left field line, Beltran walks. Bases loaded now for Carlos Delgado... Carlos Delgado who happens to be 4-for-4, by the way.
The Mets are selling seat cusions with the slogan, "got postseason?" I think we've sufficiently pounded the "got?" thing into the ground, haven't we? I don't even know what that... no, I don't have postseason.
And... he strikes out.
Mets 4, Dodgers 6

Top of the eighth inning:
Aaron Heilman is on the mound for the Mets... and Cliff Floyd's been replaced in left field by Endy Chavez. Tim Robbins loves Endy Chavez, by the way.
And hey, breaking news: JOE MORGAN HAS ARRIVED SAFELY AT YANKEE STADIUM. ESPN gives us a live shot at Joe getting out of a car at Yankee stadium... and really, that's not as crazy as it sounds. There was a decent chance that one of you would've tried to track down his travel route and murdered him on the way to the stadium. Thank you for not doing that.
JD Drew flied out to left, and then Russell Martin eventually grounded out to second base after fouling off 92 consecutive pitches. Marlon Anderson hits a slow roller down the first base line, and Carlos Delgado awkwardly tags him out on the way.
Dodgers 4, Mets 6

Bottom of the seventh inning:
Brad Penny's on for the Dodgers to face Jose Reyes. Penny, of course, is a starter... he's had some issues with back spasms and is trying to work his way back into the rotation. He starts out by issuing a walk to Jose Reyes.
Paul Lo Duca swings at a first pitch, and flies out to centerfield. That wasn't a lot of help. Beltran, 1-2 with a walk, steps up to the plate. Reyes steals second after a good jump, and the throw from Martin wasn't close. Full count to Beltran, go ahead run in scoring position... and Beltran walks.
Two on for Carlos Delgado. He's got a career .385 average against Penny, who couldn't find the strike zone with a sherpa guide right now. Beltran slaps one through the gap, and the Mets take a 5-4 lead. Delgado's 4-4.
David Wright follows that up with an RBI double... impressive work from the Mets here, and it's looking like a pretty poor idea to bring Brad Penny into this game. Runners on 2nd and 3rd, 1 down... and Penny's staying in.
Cliff Floyd now. And Floyd gets rung up on a ball low and away. Shawn Green, who owns Brad Penny, is at the plate now...Green ends up grounding out to first. Mets take control, though... 6-4.
Dodgers 4, Mets 6
Top of the seventh inning:
Pedro Martinez gets a big round of applause from the crowd... Yaaaay, thanks for pussing out and hanging us out to dry! Yay! That wasn't nice. I'm sorry.
Hey, Tim Robbins is in the booth... taking a page out of the ultra-successful "celebrity in the booth" segments that have been so effective on Monday night football.
Guillermo Mota's back on the mound for the Mets... and Marlon Anderson with a sweet little drag bunt for a base hit. a valiant effort by Valentin, but he couldn't quite make the play.
Wilson Betemit hits a grounder to the hole on the right side, and Valentin tried to get the force at 2nd, but the slide by Anderson broke it up... might have have gotten there in time anyway. Poor decision by Valentin there... the ball floated into left field, too, letting Anderson get to third. Runners on the corners, 1 down. Error charged to Valentin.
Tim Robbins is a lot like Tony Kornheiser on Monday Night Football... he's just sort of sitting there. Gary Thorne just asked him about his favorite player on the Mets. I hope he asks him about his favorite color, too.
And Mota gets a big, big strikeout of Julio Lugo for the first out of the inning. Furcal knocks a base hit into the centerfield, and the Dodgers move another run in. 4-2 Mets, runners on first and second, 1 out.
Mota vs. Lofton now... Lofton's 0-3 on the day. Swings at the first pitch, and Shawn Green makes the play (Mazel Tov!), and the runner moves to third.
Two down, now... Nomar Garciaparra at the plate. And now's a perfect time for Gary Thorne to ask Tim Robbins to describe the plot of his new movie. I wish Joe Theismann was here.
Ooooh, big bat from Nomar Garciaparra, and we're all tied up. Nomar Garciaparra rips a 1-2 pitch down the left field line... Mota's using the hell out of his change-up, and it caught up with him. He is no longer a bad-ass. 4-4.
Mota gets Jeff Kent swinging, and is finally out of the inning.
Dodgers 4, Mets 4

Bottom of the sixth inning:
Paul Lo Duca opens the inning with a base hit, and Beltran follows it up with a pop-up. Gary Thorne says the fans are chanting "Luuuu" for Lo Duca, which... I'm not sure that's exactly what's happening here.
Delgado's at the plate, 1 out, 1 on. And he slaps a base hit through the middle, and my man Lu Duca is going to hustle over to third. Delgado's three for three on the day, and Lowe's in a little bit of trouble here. Runners on corners, 1 down, and here comes David Wright.
The Dodgers get Penny and Hendrickson up in the bullpen, and there's a mound conference with Lowe. He'll stay in to face Wright.
Wright falls behind 1-2... and then launches an extra-baser into the right field corner ... Delgado scores from first... and it's a 2-run triple for David Wright. David Wright has your Derek Jeter right here, bitch. 4-1 Mets.
Derek Lowe stays in with 1 out and a runner on third... he's facing Cliffy Floyd. Lowe falls behind in the count, and they're just going to go ahead and walk Floyd here. And Lowe's being yanked. That's alright, he's got some pimpin' to do.
Mark Hendrickson is in to face Shawn Green with runners on the corners and 1 out. And Hendrickson retires Green easily, getting Green to reach lazily at a breaking all outside the zone.
Valentin steps into the batter's box for the Mets... and Hendrickson beans him. It wasn't anything intentional, unfortunately... he just went inside and caught a little bit of Valentin. The Mets aren't going to pinch hit for Guillermo Mota... he swings at the first pitch, and flies out to right field.
Dodgers 1, Mets 4
Top of the sixth inning:
Jeff Kent's leading things off for the Dodgers, and they finally get the bastard out. Guillermo Mota's on the hill for the Mets now, by the way. There are few names in the world that sound as cool as "Guillermo Mota."
I think Mota struck JD Drew out at least twice there, but the ump wouldn't give him anything... I think he's jealous because he isn't named "Guillermo." Full count to Drew now... oh, and that was a nasty pitch. Drew goes down.
Hey, it's John McEnroe in the stands. And just a word of advice... the tight t-shirt look isn't good for you if you're a painfully pale, thin white man in your 50s.
Mota opens up 0-2 to Russell Martin... and down on three strikes goes Martin. Guillermo Mota is a bad-ass.
Dodgers 1, Mets 2

Bottom of the fifth inning:
Unfortunately, Joe Morgan's leaving us. He's making his way over to Yankee stadium for the night game. I don't really feel like watching if Joe Morgan isn't going to be involved, but I'm going to soldier though it for you.
Jose Valentin grounds out sharply to first base while Thorne and Phillips interview... I dunno, some old guy in a Dodgers uniform. I don't know what the hell he said, but he wasn't happy about whatever it was.
Michael Tucker is on to pinch hit for the Mets. Full count for Tucker, before he lifts a lazy pop-up to short.
Reyes starts his at bat by swining at a ball that bounced a good two feet before it got the plate. He ends up striking out on a ball way outside of the strike zone, and Derek Lowe is cruising. He's got six strikeouts... Carolyn Hughes must be so proud.
Dodgers 1, Mets 2
Top of the fifth inning:
Wilson Betemit opens the inning by lacing a base hit to right center. The Mets get Feliciano and someone else up in the bullpen... Gary Thorne and Joe Morgan don't feel like telling who, evidently.
Derek Lowe lays down a bunt and moves Betemit to second. Bradford's the other guy in the bullpen.
Rafael Furcal at the plate now, with 1 out and a man on second. Furcal really looks like he grips the bat hard. I bet he has callouses on his hands, for completely different reasons than me. Furcal draws a walk.
Two on, 1 down now for Kenny Lofton. And at the 80-pitch mark, John Maine is leaving the game to a pretty nice ovation. All-in-all, not a bad litle outing for John Maine, although if that freak double play at the plate hadn't happened, we might all have a different opinion of it right now.
Pedro Feliciano is on for the Mets to face Lofton. Feliciano's got a 2.09 ERA this year. He's got Kenny Lofton completely baffled with his big breaking ball, and Lofton whiffs.
Two down now and... they're switching pitchers again? Come on... we're doing this in the fifth inning? This could be a looong game.
Chad Bradford's in to face Garciaparra... quick ground ball to Reyes, and the Mets are out of the inning.
Dodgers 1, Mets 2

Bottom of the fourth inning:
Hey, in-game interview with Willie Randolph... I will now make a list of all the things that he said were interesting enough for ESPN to justifiably bother him during the game for an interview:
Carlos Beltran grounds out to open the inning, and Lowe has the Mets bottled up pretty well so far. Delgado, the only Met with a hit, is now up.
Delgado gets a breaking ball down in the zone, and he hammers one to straightaway center, and Kenny Lofton couldn't catch that one if he had a rocket in his ass. Decent pitch, he just tattooed it. 1-1. Jose Reyes does some sort of mildly epileptic dance in the dugout to celebrate.
Lowe comes back to get David Wright swinging. 2 down, nobody on for Cliff Floyd.
And Floyd turns on one and just kills it to rightfield, and Shawn Green couldn't catch that one if he was one Kenny Lofton's shoulders while Kenny Lofton had a rocket in his ass. It's now 2-1 Mets.
Full count to Shawn Green now, and Lowe gets him looking on the inside corner.
Dodgers 1, Mets 2

Top of the fourth inning:
There's a car on fire in the parking lot, evidently... at least that's what Gary Thorne said. There's some kind of smoke billowing around beyond the left field wall. Being that we're at Shea, I'm guessing someone's car just got chopped and torched. I hope it was Sandy Koufax's.
Jeff Kent leads off the fourth wither another base hit, this one a liner into left center. His mustache infuriates me, and I'm not exactly sure why.
At the plate now is JD Drew... and he takes a called strike on a full count. He had already began walking down to first... looked like a pretty good pitch to me, hitting the outside corner.
Russell Martin, who reminds me a lot of Jack Parkman from Major League 2, steps in against Maine with 1 out and a man on first. He pops up and David Wright will handle it. Two down.
Marlon Anderson chases one on the dirt for strike three, and Maine's out of the inning.
Dodgers 1, Mets 0

Bottom of the third inning:
It's John Maine leading things off... from what I can gather John Maine has about as good a chance of getting a base hit here as Tommy Lasorda would. He goes down swining, and I'm not even sure he was trying.
Reyes flops a little pop fly into the centerfield to Kenny Lofton... the sun is making everything a struggle right now, but no one's goofed too badly yet.
Paul Lo Duca, who grounded out his first time up, is at the plate. When he came to the plate, he gave Lowe a wink and a nod, sort of acknowledging their status as man-whores. Lo Duca then struck out looking.
Dodgers 1, Mets 0

Top of the third inning:
RoyHaygood just sent this in about Vin Scully... who I'd much rather be listening to:
There is nothing like listening to Vin Scully do a Dodger's game. He just had this exchange with himself:

You know, there's an old joke they used to tell about the Brooklyn Dodgers (only he would know this and remember). There's a guy outside Ebbetts Field and a guy inside Ebbetts Field watching the game. The guy outside calls out to the guy inside and says, hey, how are the Dodgers doing? And the guy inside says, excitedly, they've got two on! And the guy outside says - what base?

And Vin says, well, they can dust that old joke off today.
Furcal pops out to open the inning for the Dodgers. Kenny Lofton is up next, and he goes down swinging on a 2-2 fastball that Lofton couldn't even come close to catching up to.
Looks like Maine is settling down a little bit. Nomar Garciaparra quickly goes down 0-2, and then lifts a fly ball into right that Shawn Green is able to track down. Three up, three down for the Mainer.
Dodgers 1, Mets 0

Bottom of the second inning:
Cliff Floyd will lead it off for the Mets here... he's hitting .241 since coming back from the DL. He hits a hard grounder right to Jeff Kent at second. One down.
Shawn Green pops one up into shallow left, and Rafael Furcal fights off the sun to make the play.
Jose Valentin, he of the two assists on one throw in the first inning, is up... but not for long. Lowe sets them down in order, and gets Maine coming up first in the third.
Dodgers 1, Mets 0
Top of the second inning:
Hey, Sandy Koufax is in the house. He's going to follow the Dodgers around all throughout the playoffs.
Jeff Kent is up for the Dodgers, and he's one of the few guys in baseball that I actively dislike. In fact, most of the guys in baseball I actively dislike are Dodgers... of course, Kent gets a base hit.
Up comes J.D. Drew, and John Maine is pitching out of the stretch here. That might affect his concentration, but in his pitching, and his trying to chew that giant gob of whatever that happens to be in his mouth. Drew swings and just dribbles on down the 3rd-base line... a Willie Mays Hayes base hit, and the Dodgers have two men on and nobody out.
Russell Martin is at the plate, and the Mets are playing the bunt. Martin jacks one into the rightfield corner, it bounces off the wall, and Kent is DEAD at the plate... great throw. And then DREW is pegged at the plate. Wow. What the hell... Drew just followed Kent right in. Were they just gambling that Paul Lo Duca wouldn't be paying attention to the second guy? Double play... good luck scoring that one, Mr. Scorekeeper. 2 down, 1 on, a single for Martin, and it's still scoreless. Unbelievable. Great work by Lo Duca, and John Maine, backing him up and letting him know the second runner was coming.
Marlon Anderson then pushes a base hit down the 3rd base line and drives the runner in, and the Dodgers take a 1-0 lead. Wilson Betemit takes the intentional walk, and Maine will pitch to Derek Lowe.
Maine falls behind 2-0 to Lowe, and we've got a brief conference at the mound here. Candlesticks always make a nice gift. Maine comes back to strike him out... and it's amazing that the Mets are out of this inning, having given up just one run. The replay of that double play at the plate will blow your mind.
Dodgers 1, Mets 0

Bottom of the first inning:
We're moving to ESPN now, and ESPN2 has to feel so... used. They're switching to poker now. If there's not a run scored or a charging of the mound in this half-inning, I'm liveblogging the poker instead.
Jose Eyes flies out to right to open things up for the Mets. I like Reyes, and I really couldn't tell you why. LoDuca then grounds out to shortstop... and then Carlos Beltran drew a walk from Lowe. A base hit from Carlos Delgado gives the Mets 2 on with 2 out. And that really, really slow mo camera that ESPN has... that's pretty cool.
And here comes David Wright... the commentators are asking him to take it to the "Derek Jeter level." I don't know if that's such a good idea, I heard that Jeter guy has AIDS.
And Wright grounds to the second baseman, they get the force out at second, and Lowe gets out of the first unscathed.
Mets 0, Dodgers 0

Top of the first inning:
We're starting on ESPN2, because the A's/Twins game is running a little long. That works out pretty well for the Mets, because it gives them an extra hour or two to walk around NYC and look for someone who can pitch.
John Maine will be taking the mound for the Mets, as it turns out. I guess Jose New Hampshire was busy. Our commentators for the day are Gary Thorne, Steve Phillips and the ever-popular Joe Morgan. Gary Thorne just put his arm around Joe Morgan and then leaned his face close to Joe's. So, racially, he's pretty cool.
This commercial where Holiday Inn has Joe Buck hanging out some guys who somehow appear less cool than Joe Buck... that one really took some doing. Very ambitious project.
With 15 HRs and 63 RBIs, Gary Thorne says Rafael Furcal is having an "MVP-type year." I suppose. He also just called Derek Lowe "Kevin Lowe." My God. I bet Gary Thorne cries every day because ESPN no longer carries NHL games.
That "Maine Man!" sign is really clever. Be proud, buddy.
Furcal lined out to Reyes to open the inning, forcing him to make a nice leaping grab while gazing into the sun. They should really consider moving this thing indoors.
And up comes Kenny Lofton, a man around him I once built a fantasy baseball empire. And Maine struck him out on four pitches. Maine looks like a really young guy... the kind that Congressman Foley would probably love to instant message some kind.
And Carlos Delgado tried to track down a Nomar Garciaparra foul ball a few feet into the stands. Some douchebag fan knocked it away from him... he probably could've had that. That fan deserves to get his ass beat. But Maine gets Garciaparra to ground out the third on the next pitch. 11 pitches, and the side is retired.
Mets 0, Dodgers 0