Joe Anderson is the mayor of Liverpool. He is also a diehard and delusional Everton fan. It is presumably this mix of a mayor's political sway and a fan's righteous indignation that inspired him to call the cops and ask them to investigate a transfer he didn't like.
The transfer in question is that of Everton's talented, promising, but unhappy Ross Barkley to Chelsea. Everton didn't want to lose their homegrown star, but with his refusal to extend a contract that was set to expire at the end of the current season, the team needed to either ship him out and recoup a little bit on his hefty transfer value or risk seeing him leave for free next summer. That was what led the club to accept Chelsea's reported £35 million bid for Barkley last summer, only to see Barkley reject the move at the last minute. (At the time Barkley explained his decision by saying he'd prefer to stay at Everton to rehab his recently injured hamstring before testing the transfer waters again in the January window.)
As predicted, Chelsea came back for their man this winter, and finalized a £15 million deal with Everton to sign Barkley last week. It hurt many Everton fans' hearts to see such a good player leave for such a paltry fee, especially when the player in other circumstances could've easily commanded four or five times that much. However, because Barkley was only six months away leaving for free, and because he'd spent the entire first half of the season out with that hamstring injury, rational Toffee fans could understand why the club was willing to settle for Chelsea's relative peanuts.
Anderson does not appear to be one of those rational Everton fans. He first shared his views on the Barkley transfer on Twitter, immediately focusing on the fall in price from Chelsea's summer bid to their winter one, and pledged to write to the FA and ask them to investigate:
G/O Media may get a commission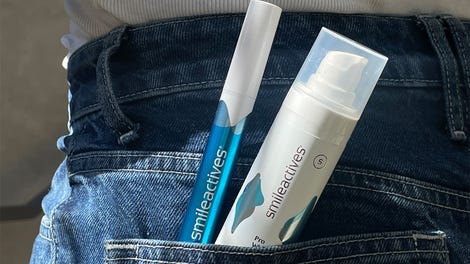 58% off
Whitening Powerhouse Pen & Gel Duo
True to his word, Anderson has written that letter, and the Liverpool Echo has thankfully shared it with the public today. It's not an angry note exactly, and is written in a calm and measured tone, but when you pay attention to what's actually being said you can clearly see the frustration and anger the even-tempered nature of the words themselves attempt to conceal.
Anderson doesn't really have any point other than Chelsea wanted to pay £35 million for Barkley before, then dropped it to £15 million now, and so there must be some shadiness behind it. After laying out the history of the Barkley-Chelsea dealings, Anderson goes straight into his complaints, which again don't really amount to anything actionable:
At best, this represents a very poor deal for Everton Football Club. At worst, it could be seen as a deliberate attempt to drive down a player's value in the transfer market so as to benefit the player, his agent and the buying club.

As you well know, there is much speculation about the role of agents in transactions such as this and the impact it has on the modern game, including their role in the transfer of players.

I believe that the player has a contract and it should be honoured by both parties but clearly, the value of a player decreases as the contract runs down. It must surely concern you that the value of this player decreased so sharply, losing the selling club over £1 million per week, (plus the costs of the continuation of the player's wages).
Having made nothing resembling a cognizable case for why the transfer should be investigated, he then goes on to explain that clearly this is a matter for the authorities to get to the bottom of, and that not only has he contacted the FA about this, he's also gone so far as to notify the police so that they can look into a possible fraud angle:
Had he left at the end of the season, it is clear he could then have departed on a free transfer and I accept that would and could have happened, costing Everton more. However, I believe that the circumstance of his transfer now warrants serious investigation.

There seems to me to be at least a public perception that collusion has taken place. While that may not be the case it is in your interest that this is at least looked at to reassure fans that transfers will be monitored more closely in future and that no individuals are benefitting inappropriately.

Football fans are often treated as the forgotten minority and the premier league would not be the fantastic product it is without them. Those committed fans pay exceptional ticket prices to watch their team play which I believe gives them a stake in this whole process and they deserve the right to a degree of transparency.

I am so concerned about the circumstances surrounding this transfer that I am asking the appropriate police authorities to consider whether any fraud has taken place.
If Anderson thinks this is bad, just wait until he sees what Arsenal sell Alexis Sánchez for here in the next couple weeks.