The first game of a season that for the first time in forever feels like it might end with the long-awaited Premier League title. A match against, on paper, one of the strongest teams in the division. A home opener in what is probably the most raucous stadium in the country. A chance to put together a performance that would announce to their competitors and to themselves that they are exactly as good as everyone's been saying and that they mean business.
All of that stood before Liverpool when they took to the pitch against West Ham on Sunday, and so once the Reds started clubbing the Hammers into submission with runs and passes and shots that kept producing goals, it would've made all the sense in the world had the players exploded with joy over every successful move, each one auguring a season of great things to come. Instead, Liverpool's players reacted to their domineering 4-0 victory like this:
That's Mohamed Salah up there, scoring the first goal of the game. Involved in the move were Liverpool's league-best full back tandem (one, Trent Alexander-Arnold cracking open West Ham's defense like an egg with a fantastic pass; the other, Andrew Robertson, playing the assist) and their new star midfielder, Naby Keïta. The sequence was blisteringly fast, impossible to stop (though almost every Liverpool attack was impossible to stop thanks to West Ham's complete lack of defensive solidity), and set up Salah for a crucial first goal as he looks to prove that his historically great 2017-18 season wasn't an anomaly. Rather than go crazy after getting that goal, Salah just sauntered over in Robertson's direction with a smile, accepted a couple hugs and back-pats from his teammates, and ambled back toward the center circle.
The team's response to their second goal, scored by Sadio Mané, was similarly subdued. After handing Liverpool the all-important two-goal lead from his fairly simple tap in, Mané—always cooler than a polar bear's toenails after he scores—trotted over the the sideline pointing at the name on the back of his shirt before hopping in the air for a soft little fist pump:
The celebrations after both Mané's and Salah's goals looked more like something you'd see in a preseason friendly than a high-stakes Premier League match. Clearly, Liverpool were not overly impressed with themselves for dismantling West Ham. Which says something about the Pool Boys' mentality coming into the season. West Ham aren't exactly Manchester United, but they have invested heavily and in what looks like a really smart way this summer. They've hired a really good manager in Manuel Pellegrini, and spent big on potentially outstanding players like Felipe Anderson, Issa Diop, Jack Wilshere, and Andriy Yarmolenko. For Liverpool to take on a team like that, to summarily dismember them, and to stand around with Hammer blood and viscera dripping all over the place like it's all no big deal? These guys are not fucking around.
G/O Media may get a commission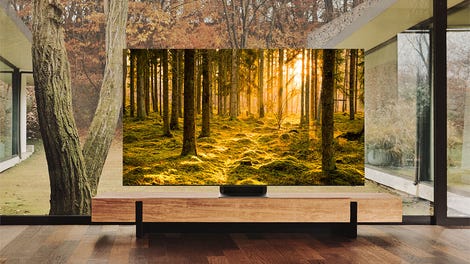 Up to 40% off
Samsung Smart TVs
Liverpool have spent more money than anyone else in the league this year in an effort to make that jump from a team that feels good about itself for being close to the teams who lift trophies at the end of the season to being a team that does the lifting themselves. They made Alisson the most expensive goalkeeper transfer of all time (until Chelsea topped the record with the Kepa signing later in the window), they spent big to improve their midfield with Keïta and Fabinho, and they brought in the high-quality attacking depth they so desperately needed in the form of Xherdan Shaqiri. The Liverpool roster is absolutely stacked, with a level of talent more than capable of winning titles. Fans of the Reds must be giddy with excitement over what the team has the capacity to achieve, and the players themselves, at least for an opening day big win over tough competition, could've been forgiven for letting some of that excitement shine through. But they didn't. The fact that they were so cool after crushing West Ham is almost as impressive, and as indicative of what could be an amazing season of success, as the victory itself.