97.1 The Ticket has been the Detroit Lions' flagship station for 18 years, but the team has decided to ditch The Ticket for another local station. According to a senior vice president of CBS Radio, the owner of 97.1, this decision was made in part because the station refused to allow the Lions to censor its content.
From the Detroit News:
"It is sad to say goodbye," said Debbie Kenyon, senior vice president and market manager for CBS Detroit. "But in the end it came down to the integrity of CBS — the refusal to be censored in talking about the team and making honest assessments on the air about this team."
The Lions were particularly concerned with sports radio host Mike Valenti, according to Valenti's agent, who sent this statement to various media outlets today:
"Mike Valenti must be fired! This was one of the conditions set forth by the Detroit Lions if they were to stay at 97.1 The Ticket. As Mike's agent, I found this to be ludicrous that representatives of the Detroit Lions would constantly call market manager for CBS, Deb Kenyon and harangue her to silence Mike and tell him what to say and what not to say.
"Mike is a clever and creative talent who speaks his mind and that is why he is so spectacularly successful. To Deb's credit, she stood firm and let the Lions walk as opposed to surrender to a ridiculous form of censorship."
G/O Media may get a commission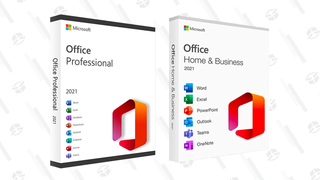 89% off
Microsoft Office Professional 2021 Lifetime License
The Lions shot back with a statement of their own:
"I know there's a bit of narrative out there regarding the notion that, somehow the Lions are practicing some sort of censorship," said Elizabeth Parkinson, senior vice president of marketing and corporate sponsorships for the Lions. "If we were trying to practice any sort of censorship, we certainly would've done it (the switch) much sooner."
Maybe you believe the Lions, or maybe you believe The Ticket. Either way, the important thing to remember is this: both the Lions and sports radio in general are trash.