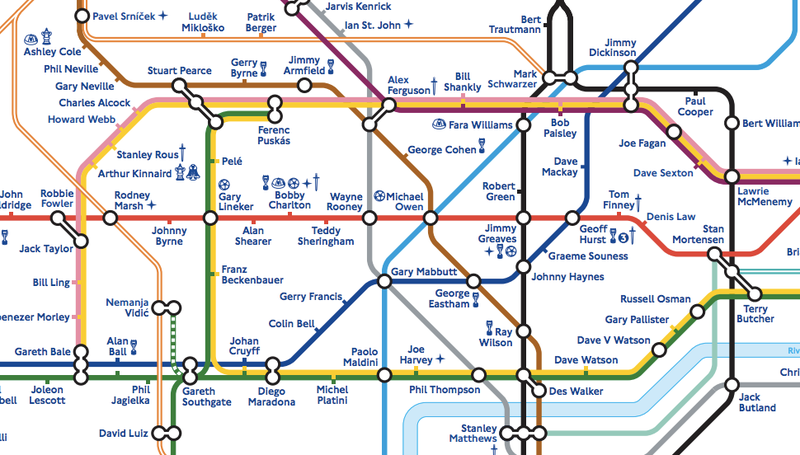 England's Football Association and the London Tube both turned 150 this year, so in commemoration the FA has released a neat soccer-themed version of the famed Tube map. As you can see in the excerpt above, each of the systems's near-400 stations (including the overgrounds) has been replaced by a notable player, with each line standing in for a football "category". For example, the "Goalkeeper" line (Northern) runs from Joe Hart to Frank Swift and Gordon Banks, while "FA Cup Heroes" (Jubilee) runs from Ronnie Radford to Cristiano Ronaldo. Click here to see the full map.
Six London Tube stops dominate the city's traffic, pulling in over 60 million passengers a year. In order of usage, these have been assigned to: Stanley Matthews (Waterloo), Paolo Maldini (Victoria), Jimmy Dickinson (King's Cross St. Pancras), Michael Owen (Oxford Circus), Jack Butland (London Bridge), and Ian Rush (Liverpool Street). A fine collection of footballers, probably.
Alas the cleverness only goes one layer deep, as the intersections between tube lines don't work out too well. Jimmy Dickinson is certainly a "Midfielder" (Piccadilly Line) but not so much a "Woman Player" (Victoria Line), unless the FA knows something that we don't.