Soccer fans who travel to see some hot World Cup action next summer in Yekaterinburg, the easternmost of Russia's 11 host cities, will not only get to watch soccer from inside a stadium, they'll also simultaneously get to watch soccer from outside the very same stadium, thanks to some creative construction. The Yekaterinburg Arena isn't quite big enough for World Cup standards, which require that venues have at least 35,000 seats. As a solution, officials just sort of plopped some extra bleachers on either end of the stadium and called it a day. Look at this marvel.
Isn't it, uh, pretty? Doesn't watching soccer near a stadium just sound great?
FIFA even lovingly retweeted this Yahoo tweet that was almost certainly making fun of the stadium.
G/O Media may get a commission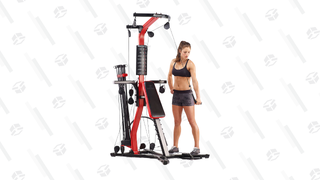 31% Off
Bowflex PR3000 Home Gym
I too love to watch what appears to be soccer with the aid of high-powered binoculars.
Fifa told the Guardian that the stadium was really cool and safe.
A Fifa spokesperson said: "In the case of Ekaterinburg, temporary seats are being installed in order to ensure that the renovation work would conserve the historical façade of the stadium and that maintenance costs are reduced after the Fifa World Cup. Inspection visits and detailed reports have shown that the temporary seats in the Ekaterinburg Arena fully comply with all safety and security requirements."
This is stupid, but at least it will provide some decent drone angles for ambitious bootleggers.