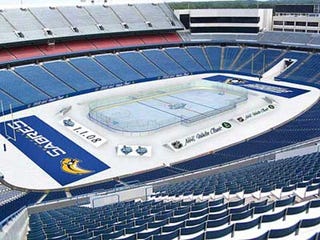 For the 12 of you back at work, Melt Your Face Off offers this preview of the NHL's Winter Classic to be held one week from now, and why it kicks the ass of the stupid Capital One Bowl.
It's 1 p.m. on New Year's Day, and you're just emerging from your Drink Away '07! coma-hangover (combover?) The TV roars to life, and you're presented with two ways to spend your early afternoon. On ABC there's the Capital One Bowl, featuring Shanoff's Hard-On against App State's Wake. You could sit back and watch some almost slightly above-average college football at its finest, or you could flip to NBC...
...for the AMP NHL Winter Classic! It's sponsored by AMP! It's not every day PepsiCo affixes its 8th-best selling beverage's name to a nationally televised outdoor game of puck! I'm sure Dale Earnhardt Jr.'s going to be there -nay- PLAYING in the game! Yeah, that's it! He'll be in net for the Pittsburgh Penguins as they take on the Buffalo Sabres at Ralph Wilson Stadium. Take that, Tony Stewart!
The Winter Classic is going to be COLD! Tune in to see hockey players getting cold! The goalies quite possibly could end up wearing ski masks underneath their goalie masks! Who does that? And while there's nothing like the plunging temperatures of a January sporting event in Buffalo, analysts are predicting that most players will choose to huddle around the Pens' Sidney Crosby, who brings light, warmth and salvation to the world. As for Buffalo, Ryan Miller has agreed to take some time off from touring with Guster to freeze between the pipes for the home team.
But wait, there's more!
Prior to the opening face-off, the Buffalo Sabres alumni will play both the local fire and police department teams, although not at the same time. Meanwhile, arson and robbery will run rampant throughout upstate New York. This will be a marked change from last year's Heritage Classic, where Edmonton and Montreal's alumni squads played each other. This idea was scrapped this time around, largely because Gary Roberts was having emotional heartburn about which game to play in. (Hey-oh!) Also, count on some intermission entertainment (we hear they've booked the Goo Goo Dolls to play BOTH of them!), and at least 73 references from the announcers about Mystery, Alaska. Hey, it's more fun to quote that movie than pronounce Maxim Afinogenov when it's 4 degrees in the booth.
Meanwhile in Orlando, Tim Tebow has just rushed for a touchdown late in the 4th quarter, giving the Gators a 10-6 lead. Yawn.
Melt Your Face-Off will be no doubt live-blogging the event, and if you're lucky, we'll throw down with, yes 74! references from Mystery, Alaska! It's the NHL on NBC, people! The Coolest Game on Earth!