Detroit captain Henrik Zetterberg will turn 38 the week the NHL season starts up, and for the first time in a long time, he will not be in the Red Wings' lineup. He will not be in the lineup for a long while, and perhaps not ever again. It'll be a noticeable absence, given that he's been a mainstay since 2002 and is one of the last links to the last time the Red Wings were any good—and they are certainly not going to be any good this season.
Jokic? Embiid? The NBA MVP is obvious... right? | Keep it a Buck(et)
Zetterberg has been battling pain from a series of back injuries for years, having undergone back surgery in 2014. But he hasn't missed a game in the last three seasons, even as the pain became so bad midway through last season that he stopped practicing altogether. Now, it's just getting to be too much. Zetterberg told the Swedish newspaper Sportbladet that he's not going to attend training camp, which opens in two weeks.
"I haven't been able to train properly the whole summer, so I'll miss training camp, and therefore also the start of the season," Zetterberg told Sportbladet in Swedish. "Then we'll have to wait and see."

"I feel good in every-day situations, it's just when I push hard in training that I'm in pain," Zetterberg said. "But of course it's sad and hard to not be able to work as I used to. I've only been able to do rehab, not real training. As soon as I've pushed it, the symptoms have been too bad. And the tricks I've used to numb them previous summers didn't work this time."
His condition appears to be one that's not going to get much better, as Wings coach Jeff Blashill said this weekend that if Zetterberg wasn't cleared to start the season, he wouldn't expect him to play at all this year. Zetterberg tried to stay more optimistic than that, but Blashill's comments came before Zetterberg revealed he's not even ready to take part in camp.
It's in the Wings' financial interests to decide this quickly, as they could save decent cap space by putting Zetterberg on long-term injured reserve. His cap hit is about $6 million a year for the next three seasons, even if his actual salary will be comically low—Zetterberg signed a massively frontloaded 12-year contract way back in 2009.
G/O Media may get a commission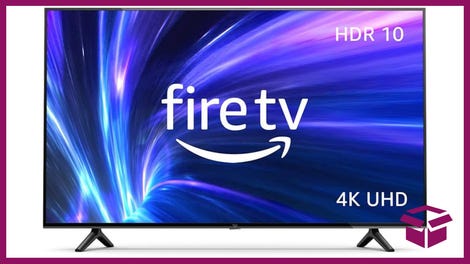 42% Off
Amazon Fire TV 50" 4K Smart TV
There's been some speculation that this is a Marian Hossa–type situation, where Hossa was never really expecting to play through the final years of his frontloaded deal. Perhaps Zetterberg was willing to play through vicious pain when he was making $7 million last year, but not so willing when he's making $3.3 million this year or $1 million each of the next two years. Even hobbled as he was for half of last season, Zetterberg was second on the team in points.
The back, man: it fucks you.
"Every time I try to amp up my workouts, I get symptoms again," Zetterberg said. "Surgery is not an option. Since February, it has slowly gotten worse — things like nerve pain down your legs, disc-related issues. I was able to find a way to get through it, but it has slowly gotten worse.

"I need someone to tell me I can't play hockey anymore."
If this is the end for Zetterberg, he'll retire with 960 career points, plus another 120 in the postseason. He's fifth on the Red Wings' all-time lists for both goals and assists. His counting stats don't come close to capturing his value as a two-way player. He was awarded the Conn Smythe for his performance in the Wings' 2008 Stanley Cup run. He spoke out against Russia's anti-gay laws ahead of Sochi, one of a very few hockey players to say anything at all. He won the King Clancy Trophy in 2014 for his humanitarian contributions. He's one of just 28 men in the so-called Triple Gold Club, with a Cup, an Olympic gold medal, and a World Championship. He has a case—though perhaps not the strongest one—for the Hall of Fame.
It appears that Zetterberg's final contribution to the Red Wings will be a significant one: forcing them to finally blow things up and rebuild from scratch, something they should have done years ago.