The Bills made obvious their lack of commitment to QB Tyrod Taylor when they announced he would be benched for Sunday's season finale, a clear move to protect him from a serious injury which would lock them into $27.5 million guaranteed next season. Taylor appears to be making his intentions known, too:

Taylor was a favorite of Rex Ryan's, but with Ryan's firing, the current Bills braintrust appears ready to move on at QB, and want to preserve their ability to cut Taylor in March.
(Interim coach Anthony Lynn said the decision to start E.J. Manuel on Sunday was a "business decision," and admitted he wasn't in the room when the decision was made. Lynn is perhaps revealing more than his bosses might want. Yesterday he specifically said Taylor's injury was not to his hamstring. Update: the official word is that Taylor is missing practice for a "veteran's day off.")
G/O Media may get a commission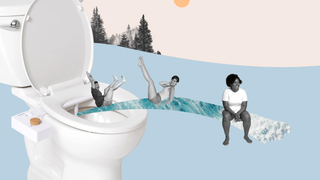 17% off
Tushy 3.0 Warm Water Spa Bidet Attachment
Taylor's a fascinating case. He rode the bench behind Joe Flacco for four years, but without gaining the mystique that backups in, say, New England or Denver or Green Bay tend to garner. In his two seasons starting for the Bills, he's been...fine. I don't really know a more exciting nor a more appropriate descriptor to use. He's shown flashes, and a pretty strong ability to avoid singlehandedly losing games. His stats are almost all middle-of-the-pack, though marks potentially in his favor are his patchwork receiving corps and Buffalo's tendency to run the offense through LeSean McCoy.
Dependability and competence aren't sexy, but in an NFL where even those things are hard to come by at quarterback, Taylor makes an intriguing option for the many QB-starved teams. He's 27 years old, just about entering a quarterback's traditional prime, yet he's only started 29 games in the NFL. He's more of a sure thing than Jimmy Garoppolo, and can be had without giving up draft picks, though the real question is Taylor's ceiling—is a competent signal-caller all he'll ever be? Or could he be something special in the right situation? Someone will almost definitely take the chance and find out, though the nature of the beast is that the teams who most desperately need Taylor's services tend to already have the worst situations for a quarterback to come into.
The Bills aren't necessarily wagering that they can do better than Taylor, but rather that they can do cheaper. If there's a lesson to be had right now, before we see how Taylor's career plays out, it's that it's basically journalistic malpractice to report big NFL contract numbers direct from agents without knowing the important details, in this case the pricey second-year team option. Remember everyone raving about Taylor's six-year, $90 million contract extension? It ran one season and ultimately paid just $7.5 million in new money.