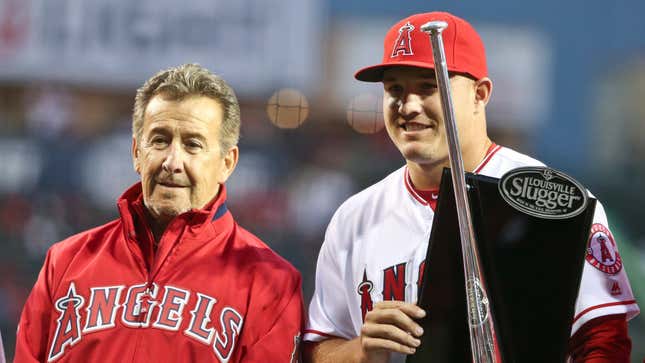 There are few people on this Earth who can stare down a couple of billion dollars, and well over 10 times what Artie Moreno paid for the Angels originally, and say to themselves, "You know what? I'm good actually." That is a level of comfort and confidence only the smallest group will know.
Is Shohei Ohtani the frontrunner for MLB MVP in 2023? | Agree to Disagree
But that's what Moreno did yesterday, when he took the Angles off the market and kept them to himself. The easy conclusion would be that he didn't see an offer that was worth it for him, but that's not what the reports have been saying. Even Golden State's owners had made noise about buying the Angels.
That's been some of that in the water lately, at least globally. Fenway Sports Group put up Liverpool FC for sale in the fall, and now the rumors have been they've switched gears to just looking for minority owners because no one's come to meet the price. Manchester United has been for sale for about the same amount of time, and yet there have been no bites.

How much could he have possibly made from a sale?
Still, the rumors were that Moreno would have gotten anywhere from $2.5 million to over $3 billion, which would be insane to turn down. It's not like the Angels have as much going for them as the Mets, who have a newer ballpark and actually play within a major market instead of just peering over the fence of one and mimicking what they see inside, as the Angels do. Angel Stadium probably needs some work, and the team that resides in it certainly does.
The Angels will spend, but...
While the Angels have never been shy about cutting the big check to certain players, that doesn't mean they've been one of the game's biggest spenders. Sure, Mike Trout and Anthony Rendon need a wheelbarrow when they go to the bank, but that hasn't spread to the rest of the roster. The Angels have never come close to the tax threshold in recent years, even with gaping holes on the roster. Moreno will splash over $100 million on Rendon, Trout, and Ohtani this year, and yet the Halos still very much look like the fourth-best team in the division, only better than the A's who aren't even bothering.
Misallocated funds aren't necessarily the owner's problem, though the hiring of the guy who is allotting that money to bums or broken-down heroes is on the owner. There has been plenty of talk that Moreno hasn't given whatever iteration of his front office is around the resources for player development either, which is what has killed the Angels most. They've produced Trout..and then failed to back him up with any homegrown difference-makers. Logan O'Hoppe will take over at catcher this year and provides some hope, but the rest of this lineup shades pretty old and pretty meh. You have to balance the players taking home the zero-filled checks with players from your own system. The Angels have just listed top-heavy.
So what is Moreno playing at here? When you've got Rob Manfred covering for you, it's only going to make everyone think that something isn't above board. Perhaps there was something with the outstanding lawsuits related to the death of Tyler Skaggs hanging over the team. There was the deal to renovate the stadium that went south when the mayor of Anaheim found himself on the path to the Stoney Lonesome. Those are certainly more than insignificant Matzah balls hanging out there, but again, there weren't reports that had scuttled interest from prospective buyers.
Maybe Moreno just couldn't bear the idea of watching the Angels under someone else's control. Maybe the thought of them winning with someone else terrified him even more. These guys' accounts are only matched by their egos, and Moreno who has always talked like a guy who wanted to win even if he hasn't known everything that entails. He's not here to just soak up TV and revenue-sharing money, it seems.
What's next?
Still, Angels fans must be deflating now, given the ditch they steered into lately under Moreno's watch. What does this mean for Ohtani and his impending free agency? He was kept around to make the team more attractive to sell. Does this mean he's punted at the deadline? Re-signed for the $500 million it might take? Does he even want that $500 million from the Angels if they can't show things will be different?
Again, it's hard to know what Moreno saw in his crystal ball to turn down literally billions. He hasn't spoken with the press in three years. And explaining to us commoners how a couple billion wasn't worth guiding your crew to 79 wins again would be a tough task, you'd have to think.
Would be nice to have that option though, wouldn't it?