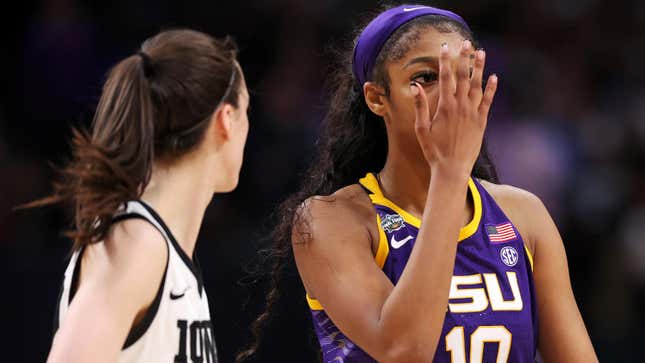 All season long, Angel Reese and Caitlin Clark dominated women's college basketball. It was a prayer answered when the basketball gods gave us Iowa and LSU in the national championship game during a record-breaking Final Four. But instead of the focus being on LSU's hot shooting or Iowa's second-half rally, the conversation has been hijacked. Because in this country, only white people get to participate in trash talk without their integrity and humanity being questioned.

Dave Portnoy, Keith Olbermann, and half of Twitter expose their whiteness after Angel Reese's taunt | Andy Reacts
Dave Portnoy, Keith Olbermann, and half of Twitter expose their whiteness after Angel Reese's taunt | Andy Reacts
"All year, I was critiqued about who I was," Reese said after the game in which she was repeatedly deemed "classless" for taunting and trash-talking Clark in the same fashion that Clark did to opponents she beat. "I don't fit in a box that y'all want me to be in. I'm too hood. I'm too ghetto. But when other people do it, y'all say nothing. So this was for the girls that look like me, that's going to speak up on what they believe in. It's unapologetically you."
Grant Hill looks to repeat Team USA's 2004 "success"
From Reese to Sha'Carri Richardson and Serena Williams and Naomi Osaka, white people have a long history of proving that they hate it when Black women are unapologetic when it comes to dominating in sports. And whenever that's the case, there's some made-up outrage about their behavior. To them, white champions get to celebrate while the Black ones should always "act like they've been there before," even if they haven't. That flawed ideology is intensified when it comes to Black women — the unfair weight of being a double minority is a heavy burden.

Spare us the selective outrage
But, this isn't about trash talk, sportsmanship, or the characters of Clark or Reese. It's about white people's convenient and selective outrage whenever a Black person does something they don't like. And usually, they're totally fine when a white person does the same thing. Privilege has never been fair.

For instance, ESPN literally did an entire segment on Clark being the "queen of clapbacks." In the words of Memphis rapper Finesse2tymes, "It's cool when they do it, it's a problem when I do it — f*ck 'em."
"Classless" is just the latest in a long line of words that are weaponized against Black people as a substitute for the N-word. That list includes words like "thug," "woke," "athletic," and "lazy." We know who some white people are referring to when those words are used. And in the sports world, there's a long history of it.

"Too many players in this league whose actions and attitudes bespeak kind of a thug mentality," Bob Costas once said at the time about the Malice in the Palace in an old clip from a recent documentary about the event. Keith Olbermann even popped up — again — and labeled the Black players as "gangster wannabes."

The next time you're watching a game, notice how white athletes are described as a "gamer," "intelligent," "a hard worker," "a gym rat," "a competitor," or "deceptively quick." But when it comes to Black athletes it's always about their "athleticism" and "God-given talent," as if they don't put in the same amount of work — or more — or view the game as an intellectual.

Give Angel Reese her due
Monday was supposed to have been a day in which all of America was celebrating a phenomenal Final Four in the women's game that trumped anything that's taken place over on the men's side, proving just how far women's college basketball has come, and can go, when given the chance to show the country how great it is.

Instead, social media timelines are in shambles as arguments are ensuing about who is and isn't "classless," and the rules and regulations that come along with sportsmanship and trash talk — all because Iowa and Caitlin Clark were forced to be American sweethearts and wound up getting waxed by a team full of Black girls who play basketball in Louisiana. And if that wasn't enough evidence to prove just how wrong it is to attack Angel Reese, it led to something that no one saw coming — Emmanuel Acho actually publicly defending an African-American woman.