Two strokes back in the Masters, Tiger Woods compared his comeback to Ben Hogan's. And so the story of a man saving his wife from being killed by a bus has been co-opted by a man who threw his underneath.
Jokic? Embiid? The NBA MVP is obvious... right? | Keep it a Buck(et)
"It's very similar to what Hogan went through coming off the accident," Woods said in his press conference yesterday. "He couldn't play that much, and when you can't play, you have to concentrate on your practice."
It was the biggest cringer of a comparison since Bill Simmons likened Tiger's return to that of Muhammad Ali, particularly considering the backstory.
G/O Media may get a commission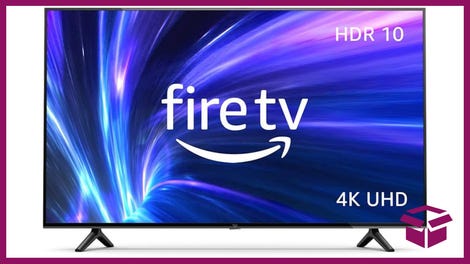 42% Off
Amazon Fire TV 50" 4K Smart TV
In 1949, Ben Hogan threw himself over his wife during a head-on collision with a Greyhound bus, protecting her from major injury but emerging from the accident with a broken collarbone, pelvis, ankle and ribs. He spent nearly two months in the hospital and didn't return to golf for almost a year before coming back to win the 1950 US Open, his legs still in bandages.
Tiger's own car crash, meanwhile, occurred under slightly different circumstances, and his attempts to protect Elin have mostly been limited to some stilted and strangely undermining (his unprovoked "Elin did not hit me" was almost a reverse "when did you stop beating your wife") press conference remarks.
As The Daily News' Filip Bondy writes, the analogy rankled many, particularly those who knew the late Hogan:
"It's stupid, moronic," said Dan Jenkins, the venerated golf writer who was close with Hogan. "Other than that, it's fine. Hogan nearly died. All Tiger did was damn near get syphilis."
(The "venerated" Jenkins might want to lay off the moral outrage, though, given what he just posted on Twitter: "Y.E. Yang is only three shots off the lead. I think we got takeout from him last night." Okay then!)
Bondy writes that "the two accidents should never be uttered in the same sentence." But in fairness to Tiger, he wasn't the first to come up with the link: The New York Times' Bill Pennington wrote a whole article on the Tiger-Hogan connection on March 26, though he curiously omitted the chivalrous details of Hogan's crash.
* * *


In other Tiger news: ESPN, the NY Post, and the Associated Press all opted to characterize Woods as "lurking". (ESPN changed the above headline shortly after putting it up, opting instead for "Ready to Pounce.") I'm all for the (un)intentionally funny wordplay, but come on, let's diversify here!
And finally, Radar reports that sexting stripper Joslyn James has made current events a part of her act, donning a green Masters-style jacket on Thursday night at Atlanta strip club The Pink Pony.
Just like your mother, James has an opinion on the new Nike ad:
James danced to Keri Hilson's Turnin' Me On as men showered her with dollar bills, spurring her to pull their faces into her ample chest as a thank you, of sorts. She called Woods' new Nike ad "creepy," and said that he "shouldn't have rushed back to play."
One can expect her to weigh in on Hogan-gate shortly.