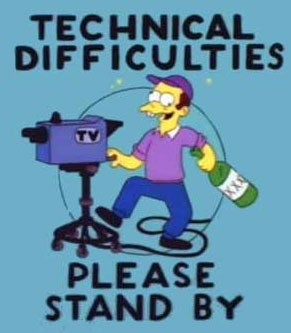 The quantity of games is light, which is compensated with a hint of quality. Central Michigan leads Miami 7-0 for the MAC championship, Central Florida is up 10-7 on Tulsa for the C-USA crown, and Army-Navy is scoreless. And for a I-AA update, Appalachian State leads Eastern Washington 7-0. Virginia Tech-BC kicks off in a few minutes, and until then, The Nedyssey Continues...

Are there actual audio problems in Detroit for the MAC title game or was ESPN just not able to find someone willing to go there? — Jerkwheat

Wow, yeah. Stan Verrett and Jesse Palmer had to announce/analyze the game from Bristol as it happened without actually being in the vicinity of the game, which we all know never works.
The MAC Championship Game - Good seats still available! Call 1-800-PAM-WARD Now! — colbypkp678
Sign at College Gameday: "Rhett Bomar sold me my car"....that dude actually bought a Kia? — Andrew
GameDay just showed a Flashback to a 1997 Randy Moss game. That's ridiculous. It is not possible to flash back to when I was in college. I repeat: it is not possible to... oh God. Oh God. If you need me this weekend, I'll be in bed with a gallon of Moose Tracks ice cream and a plastic bottle of vodka. — Tuffy
According to ESPN, Les Miles is going to Michigan. Logically in this situation, there should be a Michigan-LSU bowl game...winner gets Les Miles. There can even be a trophy shaped like Les Miles' head or something. This is a great idea. Also, I am a college student who went to bed at 3:30 am, if that explains anything. — AsInHowe
UCF's kicker looks like he's on a chili dog and Dr. Pepper diet.. — MrRedDevil
5'9" and 229 pounds? Sounds about right.
I don't want to be too snarky towards Army-Navy, but it's as if CBS is making up for the quality of football already by running seven pieces about the intensity of the rivalry before the game starts. — Signal to Noise
Is it just me, or does "championship week" have the least compelling games of the past three months? — cjbrownb
Do you think they intentionally put Ian Eagle as the play-by-play for Army-Navy? Because every time I heard his name, I think of Iron Eagle and gain nothing but respect for our armed forces....and Lou Gossett Jr — drmarquis
Join us in our blind ambition. Instant message NCAA Deadspin. Get yourself a brand new motorcar.