The Mid-American Conference and ESPN agreed to a new TV deal last August for 13 years and an undisclosed amount. All we know is that the MAC used to earn $1 million per year from its old deal, and now it'll earn more. As part of the deal, MAC schools have to put on at least 35 high-quality productions for ESPN to distribute. (Northern Illinois University, University at Buffalo, and Central Michigan University were the first three schools.) Everything else remains maddeningly vague. How much more, though? Kent State journalism professor Karl Idsvoog spoke with MAC commissioner Jon Steinbrecher to get some specifics, but Steinbrecher wasn't very helpful.
Have a listen above. As the conversation progresses, you start to think that the deal's opacity is by design. Steinbrecher says that all the schools in the MAC were kept in the loop as the contract was negotiated, but admits he did not send a copy to any of the schools' athletic directors. Steinbrecher also claims that every school's athletic director and president was present when the deal was reviewed.
Idsvoog asks if any of the athletic directors present at this meeting had lawyers with them. Steinbrecher says none was there, but disputes Idsvoog's reasonable inference that the schools didn't have any ability to look over the contract terms with their attorneys. Idsvoog points out that Steinbrecher said he didn't send any of the schools the contract, suggesting that if the schools didn't have any copies, and there were no attorneys present at the meeting, there was no way for the school to look over the contracts with legal counsel. He then asks if any lawyers for the schools had called and asked for a copy of the contract; Steinbrecher says he would have to check with his own counsel.
Idsvoog tries to find another way in. "If your son said he was going to agree to a contract that required his involvement for 13 years, and he told you he didn't have a copy of the contract and wasn't being given one, what advice would you give to your son?" he asks.
"You know what, I'm not going to respond to hypotheticals here," Steinbrecher says.
G/O Media may get a commission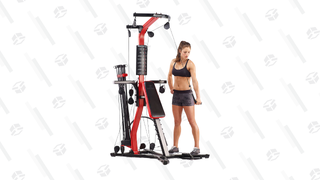 31% Off
Bowflex PR3000 Home Gym
The rest of the interview is Steinbrecher basically trying to get off the phone. The whole thing offers a nice insight into how the MAC cut a million-dollar deal while keeping the schools the conference represents—and thus the public at large—at a distance.