Unless you live in Maine, probably the last time you thought about Governor Paul LePage, the Rob Ford of the Pine Tree State, was when he complained about "guys that are named D-Money, Smoothie, Shifty" coming up from Connecticut and New York to sell heroin and "impregnate a young white girl."
Anyway, this week featured a mind-numbing series of events including LePage claiming that "90-plus percent" of drug dealers arrested in Maine "are black and Hispanic people from Waterbury, Connecticut, the Bronx, and Brooklyn"; further asserting, "Black people, they come up the highway, and they kill Mainers!"; and a reporter apparently telling the governor that state representative Drew Gattine had called him a racist, which Gattine denied. Yesterday, LePage called up Gattine and left him the following voicemail:
"Mr. Gattine, this is Governor Paul Richard LePage. I would like to talk to you about your comments about my being a racist, you cocksucker. I want to talk to you. I want you to prove that I'm a racist. I've spent my life helping black people and you little son of a bitch, socialist cocksucker. You … I need you to, just friggin' ... I want you to record this and make it public because I am after you. Thank you."
(In the video above, the word "cocksucker" is redacted; you can listen to the recording in its full glory here.)
Later in the day, LePage summoned reporters and held forth for half an hour, talking about how, among other things, he'd like to murder Gattine:
"When a snot-nosed little guy from Westbrook calls me a racist, now I'd like him to come up here because, tell you right now, I wish it were 1825," LePage said. "And we would have a duel, that's how angry I am, and I would not put my gun in the air, I guarantee you, I would not be (Alexander) Hamilton. I would point it right between his eyes, because he is a snot-nosed little runt and he has not done a damn thing since he's been in this Legislature to help move the state forward."
G/O Media may get a commission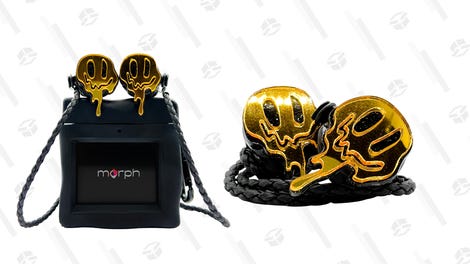 morph audio
Morph Earphones
LePage, it may not surprise you to learn, is a Donald Trump enthusiast. If you have video or audio of him expressing himself, please email us at tips@deadspin.com.