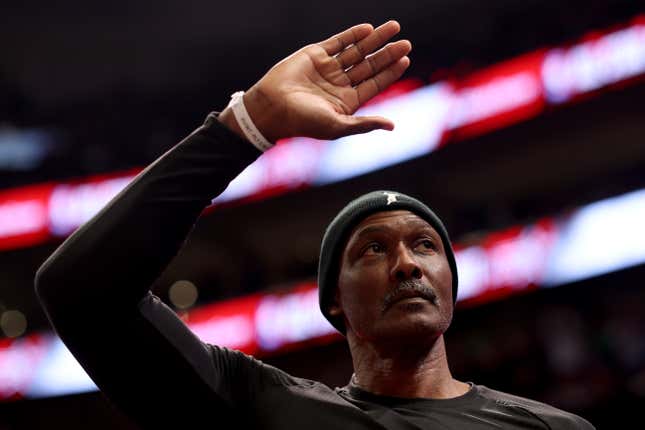 All-Star Saturday has always had cookout vibes, and McClung earned another invite for next year. But someone had to bring the unseasoned cole slaw. Karl Malone's presence as an ambassador and a judge who got entirely too many nods from the NBA and the broadcast made things way too awkward. Malone — who impregnated a 12-year-old while he was at Lousiana Tech and somehow avoided statutory rape charges before embarking on a career that had him second place on the all-time scoring list — is the NBA's living Ty Cobb. As annoying as John Stockton may be, the NBA probably should have extended the invite to him instead.
Mac McClung & the history of white men who can jump
The entire Skills competition has never really caught on and was a bore. Utah's players went out in the first round so they wouldn't break a sweat and Jordan Clarkson should have just gone through the obstacle course in jeans. Adam Silver has never really suggested an alternative for the event because that's probably the portion of the weekend when he's either able to catch some Zs or pour one back in his corporate suite.
Julius Randle's grand opening, grand closing
Outside of the elephant in the room and the skills comp, the two Knickerbockers gave New York a bad rap. Julius Randle's late addition to the 3-Point Competition as a replacement for Anfernee Simons, who suffered a Grade 2 ankle sprain on Tuesday night, was an unnecessary last-minute panic mistake by the league.
There were already more than enough heavy hitters to make up for Simons' exit. Damian Lillard carried the show, but Randle was just there as a seat filler. You know the volunteers at award shows who occupy empty chairs til celebrities get back from backstage or the bathroom? Randle is an All-Star, but in the 3-Point Contest, he was your everyman.
To his credit, the Knicks forward is shooting 33 percent from distance this season, a far cry from the 41 percent he made during his outlier contract year. He's a respectable shooter, but a 3-point contest is a different beast. Randle never had a chance and he landed with a thud, rolled a few times, and got sucked into a ravine, scoring 13 points. His son, watching from nearby seats, was caught absolutely distraught at the sight of Randle's brick-house atrocity, capturing somehow the existential dread of supporting the Knicks in any endeavor.
But the lowest bar from the 3-Point Contest wasn't even Randle. It was Kevin "Red Velvet" Huerter, who made us all gasp when he scored an eight.
Jericho Sims doesn't know what to do with his elbows
In the main event, Jericho Sims stood out from his peers McClung, Kenyon Martin Jr., and Trey Murphy. He was one of the stiffer bigs that gets jammed into this event every few years. Dwight Howard is the patron saint of Slam Dunk Contest giants, but Javale McGee dunking on two rims on two different stanchions in one leap while throwing a ball off the backboard doesn't get enough love as possibly the greatest slam dunk contest feats of all time. It's hard to get excited about seeing someone with a 7-foot-3 wingspan get up. Howard understood theatrics.
Sims ran smack dab into it with not one, but two dunks demonstrating that he could fit his elbow in the rim. Remember the first time you realized you had a basic talent, so you had to show it off to everyone even if they were getting sick of it, but it was cool because nobody wanted to squash your childlike exuberance? That's how the judges treated Sims. He was impressed by it and nobody else was, but they clapped because the vibes were cool.
First of all, on his second attempt, he had a henchman from PriceWaterhouseCoopers clip an envelope to the bottom of the net. With a simple run-up, Sims flushed a basic dunk, opened the envelope, and gave himself a 50. I haven't seen an envelope containing more misinformation since Warren Beatty accidentally gave La La Land the Oscar for Best Picture.
On Sims' first attempt, the Knicks center threw a self-pass off the backboard and threw it down with two elbows in the rim for added emphasis. Even upon further review, Sims only stuck his left wrist into the rim and then tried to finesse his elbow inside while he hung as if the backboard weren't clear and he wasn't surrounded by hi-def TNT cameras watching him try to trick the judges in slow-mo. It earned him a 47.8.
And for the second dunk, the Knicks center went viral for all the wrong reasons. Kenny Smith called it "weak" and the rest of the arena was just perplexed. Somehow the judges awarded Sims a 47.8, which goes to show that the blame for participation awards belongs to the boomers and Gen Xers who raised millennials.