Maryland had an opportunity to upset a top-10 nationally-ranked program at home and secure bowl eligibility for the first time in two seasons. All the team had to do was convert a two-point try to take the win in overtime. Despite having a very open receiver in the end zone, quarterback Tyrrell Pigrome's pass went wide past its target, saving Urban Meyer from a potentially embarrassing road loss.
Putting 51 points against the No. 10-ranked team in the nation is normally an impressive feat that should be celebrated in its own right, but the way Maryland ended up losing that game makes it difficult to retain any positives from the performance. Every time Ohio State would gift Maryland an opportunity to seize control of the game's momentum, the Terps would quickly squander the opportunity or just gift momentum back altogether.
Take this play for example:
G/O Media may get a commission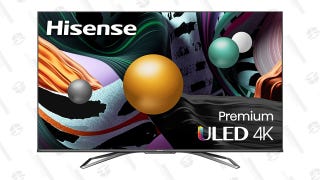 Save $350
Hisense ULED 65" Android 4K HDR Smart TV
After that catch, the ball was initially placed at the one yard line. Urban Meyer decided to screech his way down the sideline and demanded that the play be reviewed. After officials took a second look at it, they reversed their initial call and ruled it a touchdown—leading to one of the many stressed Urban Meyer sideline shots. Seems like a good time for the defense to take a stand and get some semblance of a stop, right? Well that's not how things went down. Instead, the Terps allowed Dwayne Haskins and the Buckeyes offense to march down 75 yards to tie the game with 3:14 left in regulation. Momentum gone.
There was another example of this just one drive later. The Terps were gifted a dodgy defensive pass interference call against Ohio State—the pass sailed like 10 feet over Maryland receiver Jeshaun Jones's head—and had a chance to punch in the touchdown. Breakout tailback Anthony McFarland stretched out to break the goal line plane, and fumbled the ball into the end zone, which receiver Mary Chigoziem Okonkwo was fortunate enough to fall on for a score.
Another opportunity for Maryland to make a much-needed defensive stand was brushed aside almost immediately when Buckeyes returner Demario McCall brought the ball to the 50-yard line. Ohio State took just one minute to move down the length of half the field for the late game-tying score. Unlike the Terps, the Buckeyes' defense actually held firm and forced the game into overtime. There were of course other moments that Maryland failed to capitalize on—RaVon Davis's pick 6, and McFarland's stellar first half performance come to mind.
Given all of that, it should be no wonder that when given an opportunity at this in-game redemption, Maryland squandered a play that could have helped define this season for the team on the field. Credit to Ohio State for still doing their jobs, but time and time again, the Terps showed that they just weren't up for a moment this big. If there's any redemption for those who wanted to see Ohio State fall, or those who wanted something good happen to this embattled team, at least we'll always have these images of stressed Urban Meyer.