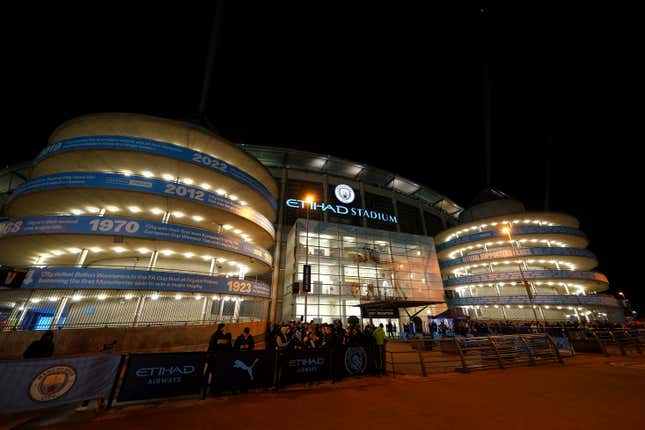 If all you have left is schadenfreude in your rooting interests, which is generally how it works out for the whole middle of the Premier League, Manchester City have been your best friend for the past two days. First came a surprisingly limp 1-0 defeat at their house of horrors Tottenham Hotspur Stadium to Spurs, and then today came news that the Premier League is charging them with financial foul play over nearly a 10-year period. And yes, this is what UEFA tried to get City on a couple years ago, but couldn't.
Erling Haaland set to break records | Premier League
In the Premier League's statement, there's a lot of legalese and references to various Premier League rules, but it isn't all that different from what UEFA charged them with and originally handed them a two-year ban on European competitions. In fact, the Premier League investigation stems from the same Der Spiegel leaks that perked UEFA's ears up.
Essentially, in the opening stages of Abu Dhabi's ownership of the club, they fudged how much money the club was earning and spending to stay within the rules. They also tried to obfuscate the investigation into that. City claimed that sponsorship of the club leveled out what they were spending, except that City also owned the company sponsoring them. They were essentially moving money from one pocket to the other and calling it income. This time around, there's also the charge of the club paying a manager under the table to hide expenditures from their official books among others.
Can't do the same gag
When City got chucked out of European competitions for two years, they appealed their case to the CAS, and the CAS sided with them basically due to a statute of limitations. The offenses that City allegedly committed were too far in the past then for UEFA to punish them for it, according to UEFA rules. It wasn't about what City actually did or didn't do, though they certainly treated it like an absolution.
That won't work this time. Premier League rules don't have a statute of limitations. And this time, City can't appeal to the CAS or anyone else. Whenever and whatever the commission that's been formed to hear the case, their ruling is the final word. City can still appeal, this time to a special appeal board formed by the Premier League judiciary committee, but one would find it hard to believe that a group formed from the same group is going to find things any different than the first one did, rather than a completely independent court system.
But don't expect anything soon, and don't expect it to impact anything this season. This was a four-year investigation, so the adjudication of it isn't going to happen in a couple of weeks. And until there's a decision or verdict, we're not going to hear much. It's all behind closed doors. The idea that this could all be finished by the end of May, with City given proper time to form a defense, isn't really all that feasible. So to all the Arsenal supporters, it's unlikely their main challengers are going to have a banana peel chucked in front of them.
What will the hammers be?
For most fans, they just want to rush to the end and figure out what punishments City could face. The idea that they could be relegated out of the Premier League is fanciful. While the judiciary board might not use Serie A as precedent, it's just about the only thing we have to follow. Nothing like this has happened in the Premier League. When Juventus were punted to Serie B in 2006 (originally Serie C) in the Calciopoli scandal, that was for influencing actual matches. No matter your views on City and bookkeeping goofiness, match-fixing and financially doping your club aren't on the same level. You could make the connection if you want, but it takes a little work. Other clubs lower on the food chain, like Leeds or Derby County in the past, were docked points for going into administration (bankruptcy). That's what feels likely here.
Juve's latest 15-point deduction is more in line with what City is accused of, and that's cooking the books to make a club look more profitable than it is. That's the most likely route, and it's most likely to start next season than it is a dock on this current one. A transfer ban could also find its way into play, which would be a real hammer to City's plans.
If no penalties are levied for this season, it's still pretty easy to picture City overcoming a 15-point penalty to not just survive but get back into the Champions League places in the next. But without the ability to bring in new players, then they might struggle. Given the financial might of the club however, any hampering of their ambitions feels like it would only be temporary. City have actually been close to net-neutral in the transfer market the past few years, and their sustained success has brought them a seat at the top of the table when it comes to worldwide attention and devotion. Their $743 million in revenue last year make them the richest club in the world, in fact. How much of that is sponsorship provided by their owners is a tangled web, but the numbers are the numbers. Maybe they miss out on the Champions League for one season, but at some point they'll be able to, legally, find the transfers and development out of it.
Maybe they find a way out of this one too, and in the long run, it's unlikely to knock them too far off track. But for anyone not a fan of City, it's a day that's worth a laugh or two.