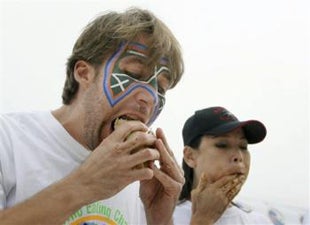 When it comes to masked vigilantes and their burritos, consider Deadspin your No. 1 news source. Eater X, otherwise known as Tim Janus of New York City, is your new world burrito-eating champion. Defeating foes such as Sonya "The Black Widow" Thomas, "Crazy Legs" Conti and Tim "Gravy" Brown, Janus consumed 10 3/4 burritos in 12 minutes Saturday to claim the $3,000 first prize at the Costa Vida Wolrd Burrito Eating Championship. Or, as Berman calls it, "lunch."
Janus says that he prepared for the competition by "eating a lot of candy." He is 28 years old, a bachelor, and makes his living as a day trader. Here's some other information from the International Federation Of Competitive Eating web site:
The rookie, who burst onto the scene at the Freirich corned beef and cabbage championship in March 2004, has advanced quickly, taking his lumps and learning from the veterans. He has established himself as an efficient and determined eater during his freshman year, tying the great Cookie Jarvis for fourth place at the National Buffalo Wing Festival and placing second to Badlands Booker in cheesecake and cannoli.
And by the way, if having a poster of the great Cookie Jarvis on your bedroom wall is wrong, then I don't want to be right.
Gentlemen (And Ladies), Start Your Burritos [Deadspin]
Eater X Wins World Burrito Eating Championship [ABC7]
International Federation Of Competitive Eating