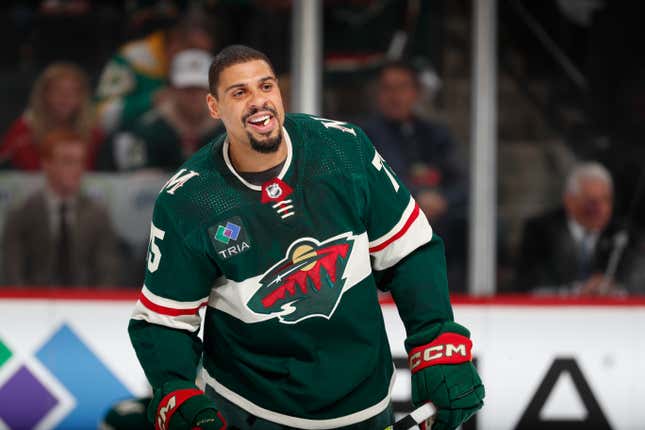 At least the Toronto Maple Leafs never disappoint. At least anyone who isn't a Maple Leafs fan, that is.

Is Texas or Florida State a bigger national title contender? | Agree to Disagree
The pressure cooker of Toronto is unmatched in the NHL, so it's not a complete shock that anyone within the bubble tends to lose their grip on reality from time to time. The center of the hockey world only has one team to focus on, which must make everything seem like it's a phonebooth. Combine that with a lot of hockey punditry and analysis unable to get at least one foot out of the muck and swamp of the past and long since dismissed archaic thinking, and the Leafs continually find themselves trapped on how to get out of the purgatory they've been in for nearly 60 years.
The narrative never changes
Every playoff exit simply must be because the Leafs aren't tough enough or don't want it enough. It must be because they're highly-skilled players just can't get it done when it matters, as if that just magically happens every spring for everyone else. They even fired their GM over this time around, only to find their new GM, Brad Treliving, has already had his brain warped by the weight of the seat.
The Leafs signed Ryan Reaves to a three-year deal on the opening day of NHL free agency. And it's easy to dismiss it as merely a $1.3 million cap hit in that time, which is true enough. And actually, if you can get through all the horseshit Reaves brings to his game — the kind of horseshit the game has moved on from a while ago — he's a pretty decent 4th line forechecker with decent wheels. But that's not what anyone acquires Reaves for. Reaves himself is the biggest campaigner of how he brings a rare slice of sandpaper/grit/toughness/faaaarrrrrt that hockey neanderthals still think is the biggest component to winning a Stanley Cup. Reaves will yap, Reaves will challenge other plugs to a fight, Reaves will start shit after the whistle, and almost none of it will matter in the eight minutes a night he plays in any game that means anything.
The Leafs' fortunes won't hinge on Reaves come next year's playoffs. But they will on the ethos that brought him to Toronto. What the Leafs think the problem is is what will sink them, again. Just like the time before, and the time before that, and the time before that, and the….
Do you know who the real enemy is?
The Leafs keep eating it in the playoffs because their defense can't move. It's not because Matthew Tkachuk is that much tougher than them. It's because he could keep catching them on the forecheck behind the net or in the corner or along the wall. The lineup on the night of yet another season came to a crashing end far too soon featured one d-man who would be described as having plus-feet, and that's Morgan Rielly. And it's still not clear that Rielly is a clear-cut #1 blue-liner. The rest were the completely cinder-block-footed TJ Brodie or Mark Giordano or Luke Schenn or Jake McCabe. The way hockey is played today, and with how fast every team's forward group is, your defense has to be able to escape on their own. The Leafs' can't.
Yeah, the Leafs didn't have a ton of cap room. No good team does. And they're under the impression they addressed this problem with what they did have in also signing John Klingberg. Except Klingberg has been rapidly decomposing the past two seasons, as he's sojourned from Dallas to Anaheim to Minnesota. His metrics have fallen well behind the rates of both the Ducks and Wild, and it isn't going to get any better as he enters his 30s.
Cap room needed? There have been plenty of trades of other teams getting problem-contracts off their books this summer, as long as they were willing to do it pretty much for free (Taylor Hall and Nick Foligno from Boston to Chicago, for instance). TJ Brodie only had a limited no-trade clause that could have freed up $5 million. Same for McCabe. It may go under the radar, but if Kevin Shattenkirk was good enough for the Bruins, he was good enough for Toronto for one year. Some maneuvering could have given the room for Dmitri Orlov, who went to Carolina, a team that understands the need for mobile defense.
Don't worry, it will probably get worse. Leafs Nation is still out for blood and still pointing at the giant timer that shows how long Auston Matthews, Mitch Marner, and William Nylander have on their deals, and they want at least one of them gone just to feel that the Leafs are "doing something." You can be sure that trade, should it happen, will be for 75 cents on the dollar (little exchange joke for ya).
You can also bet the house that, come October, Steve Simmons and his ilk will be absolutely be staining their shorts the first time Reaves gets a game misconduct late in a game the Leafs are losing 7-2, proof that he's brought a new edge to the team and now they won't accept losing as they have in the past. And they'll conveniently forget all that next April or May when whatever team that is loaded with quick forwards (it could honestly be the Sabres this time around) is able to inhale their defense, meaning the Maple Leaf forwards have to skate the puck 200 feet shift after shift, night after night, and then everyone will scream why they aren't scoring as much.
Oh sure, the division might come back to them some. The Bruins aren't going to be what they were, losing a good bit of their depth. The Lightning will continue to fade from their peak. The Panthers probably won't get everything to go right again as they did. Maybe the Sabres aren't quite ready, and the "Yzerplan" may never be so. That's the Leafs best hope.
When the air is packed as tightly into a place like Toronto, it's hard for anything new to get in. Same as it ever was.
Follow Sam on Twitter @Felsgate to find out when you can follow him on BlueSky.